Y comienza la aventura… - Resources for your Spanish Classroom
Jun 27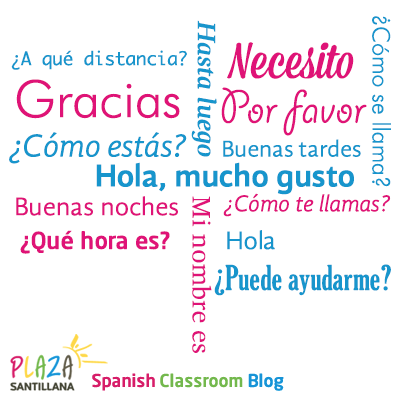 Estos meses de verano son ideales para embarcarnos en aventuras que nos lleven a conocer otras tierras, otras culturas y otros idiomas. La inmersión lingüística es uno de los métodos educativos más efectivos para lograr el desarrollo de la competencia comunicativa. Si estás pensando visitar países en los que el idioma oficial es el español, sería muy conveniente que revises esta lista de palabras y expresiones que te serán muy útiles durante tu travesía. Recuerda siempre que lo más importante estas aventuras lingüísticas es la práctica diaria del español.
Saludos y expresiones de cortesía:
Hola (Hello)
Buenos días (Good morning)
Buenas tardes (Good afternoon)
Buenas noches (Good evening / night)
Gracias (Thank you)
Por favor (Please)
Se lo agradezco (I appreciate it)
Muchas gracias (Thank you very much)
De nada (You are wElcome)
Disculpe, perdón (Excuse me)
No hablo español. ¿Lo puede repetir? (I don't speak Spanish. Could you repeat it again?
¿Me puede decir…? (Could tell me…?)
- la hora? (… what time is it?)
- cómo llegar a….? (… how to get to…?)
- dónde está la estación trenes, autobuses, etc.? (… where is located the train station, bus station, etc.?)
¿Cuánto cuesta…? (How much is it…?)
En El aeropuerto:
La aerolínea (airline)
La azafata (flight attendant)
El boleto, billete, pasaje (ticket)
El equipaje (luggage)
El equipaje de mano (carry-on luggage)
La escala (layover)
La maleta (suitcase)
El maletín (briefcase)
El mostrador (counter)
La puerta de embarque (boarding gate)
El puesto de seguridad (security check point)
El pasajero (passenger)
El pasaporte (passport)
El piloto (pilot)
La tripulación (crew)
abordar (to board)
aterrizar (to land)
despegar (to take off)
En el hotel
El botones (bellhop)
Desayuno incluido (breakfast included)
La habitación (doble) (bedroom, double)
La recepción (reception)
El/La recepcionista (recepcionst)
El servicio de habitaciones (room service)
alojar (to lodge, to stay)
firmar (to sign)
Registrar (to register)
Reservar (to book)
En el restaurante
El aderezo (dressing)
agradable (nice)
Los aperitivos (appetizers)
La azucarera (sugar bowl)
La botella de vino (bottle of wine)
El camarero ; La camarera (waiter, waitress)
La carta (menu)
El cocinero ; La cocinera (chef)
La copa (wine glass)
La cuchara (spoon)
El cuchillo (knife)
La cuenta (bill)
Delicioso(a) (delicious)
Las entradas (starters, main course)
lleno(a) (full)
La mayonesa (mayonnaise)
La mostaza (mustard)
El pimentero (pepper shaker)
El postre (dessert)
La propina (tip, gratuity)
rico(a) (savory)
El salero (salt shaker)
La taza (cup)
El tenedor (fork)
El vaso (glass)
¿Me puede traer la carta, por favor? (Could you please bring me a menu?)
¿Puede traerme la cuenta? (Could I have the bill, please?)
Es para llevar. (It´s to take away/go.)
En la agencia de viajes:
La agencia de viajes (travel agency)
El/La gente de viaje (travel agent)
El boleto de ida y vuelta (round-trip ticket)
El destino (destination)
El folleto (brochure)
La guía (guidebook)
El itinerario (itinerary)
La llegada (arrival)
La salida (departure)
La tarifa (fare)
El vuelo (flight)
This month on Spanish Classroom
Every year, Americans around the nation get together to celebrate Hispanic Heritage Month from September 15th through October 15th. The contributions Hispanic Americans have made to the United States are endless and inspiring, and they have had a profound and positive impact on our county.
Los sonidos y las letras

Cuando hablamos, pronunciamos sonidos. Los sonidos sirven para distinguir palabras, como por...
2016

2015

2014

2013

2012

2011