WHY do I have to learn this?!?!?! - Resources for your Spanish Classroom
Mar 21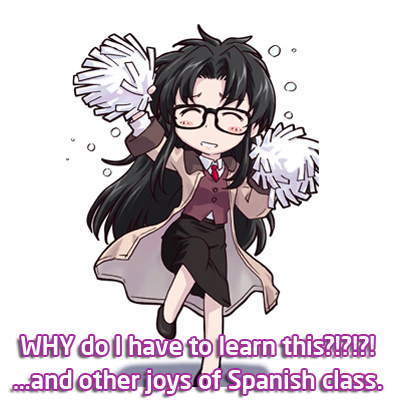 Some of my students are fascinated by the Spanish language. Some of them want to travel the world with just a backpack or become the King of Bolivia, both of which they consider equally viable career options. (But I'll take it, because at least they have aspirations, right?) Some of them have been preparing their college essays since they were four, and can cite Reasons Why You Must Learn Another Language as though it were some kind of creed they were meant to recite. (You know, along with Reasons Why I Should Study Math And Science And Not Humanities. Blerg.)
Yes, some students are indeed motivated: "some" being a technicality. But this is what an actual pie chart of many Spanish classes would look like: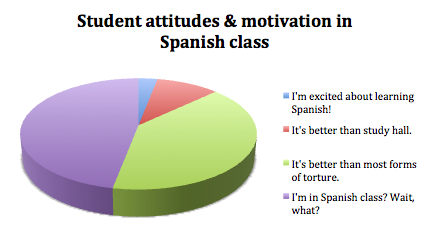 (See that little blue part of the pie? That's "some," right?)
ARGGGG!!! Do you ever feel like we spend more of our time defending Spanish or running a pep rally for it than actually teaching it? Does it ever make you indignant, and frustrated that students can't SEE why it might be a good idea to be able to communicate with most of the rest of this hemisphere? "I bet English teachers don't have to spend entire lessons explaining why English is important," we fume, forgetting, perhaps, those teeth-gnashing arguments with our own homework when we were young.
I have a couple of thoughts about this:
1. They say that you treat people how to teach you by what you tolerate, and other such stuff. (This is where I start pulling out the torches and pitchforks for the mass Spanish-teacher-uprising in my head.) Let's treat ourselves and our content like the academic subject it truly is! Let's KNOW that our subject matter is worthy of effort and perseverance. Let's not spend so much time rah-rah-rahing for Spanish class that we forget that our students can see right through it, if the culture of respect for the material isn't there, too. If we spend so much effort WANTING our students to care, it's too easy to not spend any effort CARING, ourselves. Yeah, we might not have as many resources, or instructional minutes, or professional development dollars being thrown at us as our core-subject counterparts. But until we treat our own subject with the rigor and respect it deserves, we can't really expect anyone else to, right? Right?
2. Ok, ok, that first thought is total pie-in-the-sky. Now I start to remember that things like resources, and instructional minutes, and professional development dollars are actually rather useful in developing a rigorous, relevant program. And students are more inherently motivated, I believe, if they see that the content area is just as essential as their math, English, and science classes. They are more likely to see Spanish class as on par with the rest when the school treats it as such, right?
3. And then I remember that my dear science, math, and English teacher friends are in the same boat in terms of showing students WHY they need to learn the skills for these subjects. Remember those word problems in math class?! That's what they're for! So yeah… now I'm back to square one.
So all torches and pitchforks aside, I think we actually have a BENEFIT: our content is as academic as the core classes but potentially offers the fun of a "specials" class. We are in a unique position to unlock the doors to all the other subject areas—arts, literature, music, history, even science and math—if we can lead our students through to another language and culture.
Let's talk about starting where we actually ARE in terms of motivating students to care about our classes. And how do we do this? I'm interested to hear how YOU motivate your students.
My personal philosophy is a very definitive "It depends." Each of my classes has had different "personalities," and what works for one doesn't usually work for the rest. A class in one school will be motivated by the complete opposite of a class in the school down the road. But that just means that you never know what else is out there that just might work to motivate your students.
Which is why sharing is so important! Do you use games? Rewards? Projects? Excursions? Do you just show your students how passionate you are about the language and culture? Or is that laughable as a "motivational tactic" in your school?
And while we're sharing, do you get tired of cheerleading for Spanish, Spanish, rah rah rah! Come vent to us for awhile; we get it. We've been there. Heck, some of us ARE there. Maybe those of us with interesting motivation ideas can light a little spark for those of us who are scraping the bottom of the motivational barrel.
How do YOU motivate your students?
This month on Spanish Classroom
Every year, Americans around the nation get together to celebrate Hispanic Heritage Month from September 15th through October 15th. The contributions Hispanic Americans have made to the United States are endless and inspiring, and they have had a profound and positive impact on our county.
2016

2015

2014

2013

2012

2011