Vamos a leer...sobre Martin Luther King, Jr. - Resources for your Spanish Classroom
By Spanish Classroom
2692 Views
Jan 12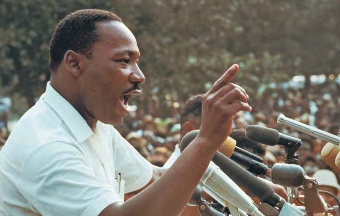 Por Alma Flor Ada y F. Isabel Campoy
Este es Martin Luther King, Jr. Martin nació en Atlanta, en el estado de Georgia, el 15 de enero de 1929.
Cuando Martin era niño, los niños afroamericanos, como él, no podían ir a la escuela con los demás niños. En los cines y los autobuses, las personas afroamericanas tenían que sentarse aparte. No podían comer en los mismos restaurantes ni comprar en las mismas tiendas. Tampoco se les permitía vivir en los mismos barrios ni jugar en los mismos parques. Esto se llama "segregación racial". Continúa la lectura acá.






Celebra el Día de Martin Luther King, Jr., con actividades para tu clase.

Después de leer la lectura descarga las actividades acá.
For more information visit www.santillanausa.com

Or contact your Educational Sales Representative here.

This month on Spanish Classroom
Every year, Americans around the nation get together to celebrate Hispanic Heritage Month from September 15th through October 15th. The contributions Hispanic Americans have made to the United States are endless and inspiring, and they have had a profound and positive impact on our county.
Los sonidos y las letras

Cuando hablamos, pronunciamos sonidos. Los sonidos sirven para distinguir palabras, como por...
2016

2015

2014

2013

2012

2011