Vamos a escribir… un discurso - Resources for your Spanish Classroom
By Spanish Classroom
2345 Views
Jan 15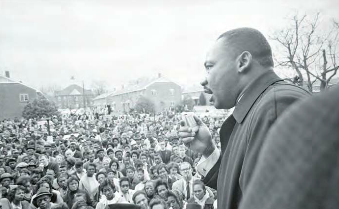 El objetivo fundamental de la Marcha de Washington por el Trabajo y la Libertad, realizada el 28 de agosto de 1963, fue que el Congreso aprobara la propuesta de ley presentada por el presidente John F. Kennedy por la igualdad de derechos civiles. El Dr. Martin Luther King, Jr., que para ese entonces tenía 34 años, pronunció su famoso discurso "Tengo un sueño", en inglés I Have a Dream.
Martin Luther King, Jr. habló, ante una multitud emocionada, de cómo se imaginaba un futuro en el que afroamericanos y blancos vivieran juntos en paz. "Sueño que mis cuatro hijos vivirán algún día en una nación donde no serán juzgados por el color de su piel sino por los rasgos de su personalidad". Terminó su discurso haciendo un llamado a todos los presentes para que regresaran a sus hogares con la misión de seguir trabajando por los derechos civiles, para que un día se hiciera realidad su sueño y todos los estadounidenses fueran libres. "Tengo un sueño" está considerado uno de los mejores discursos de la historia de Estados Unidos.
Uno de los elementos utilizados por Martin Luther King, Jr. en su discurso es la argumentación. La argumentación tiene como finalidad defender una idea o una opinión aportando razones. En los textos argumentativos predomina la función apelativa del lenguaje, cuya intención es influir o provocar un efecto en la conducta del receptor.
En toda argumentación, el objetivo del hablante es presentar razones que sirvan para defender o sustentar una idea, punto de vista u opinión sobre algún tema específico. La idea que se sostiene es la tesis y las razones alegadas para defenderla son los argumentos.
| | |
| --- | --- |
| Elementos | Concepto |
| Tema | Cuestión o situación sobre la que se argumenta. |
| Tesis | Idea que se pretende defender o de la que se quiere convencer a una audiencia o receptor. |
| Argumentos | Ideas o razones que construye el emisor para defender la tesis. |
Si bien la forma en que estos elementos se presentan puede tener variaciones, la estructura del texto argumentativo más habitual es la siguiente:Una introducción en la que se presenta el tema y se intenta captar la atención del receptor.
La exposición de la tesis debe ser breve y expresar claramente la postura del autor frente al tema. Puede presentarse al inicio o al final de la argumentación.
El cuerpo de la argumentación presenta los argumentos con los que el autor defiende su tesis. Corresponde a los párrafos centrales del desarrollo del texto.
Una conclusión en la que se resumen los argumentos expuestos y se reafirma la tesis. Corresponde al último párrafo del texto.
La argumentación está presente habitualmente en tu vida cotidiana, como cuando pides permiso a tus padres, cuando solicitas cambiar la fecha de una examen, o cuando quieres convencer a tus amigos para ir a algún lugar. En cada una de estas situaciones, y dependiendo del objetivo que quieres lograr, utilizas determinados argumentos, los cuales pueden ser de dos tipos:
Lógico–racionales: buscan convencer a los receptores apuntando a la lógica y la racionalidad, es decir, son argumentos que se basan en información comprobable.
Emotivo–afectivos: son argumentos que buscan convencer apelando directamente a los sentimientos y emociones del receptor, con el objetivo de provocar simpatía o rechazo de lo que se plantea.
Practica lo aprendido
Busca argumentos para defender una de las siguientes tesis. Investiga y redacta un texto breve y coherente para presentarlo a tu clase.
A. El respeto por las otras personas es fundamental.
B. Es necesario que los seres humanos cuidemos el medio ambiente.
C. El futuro de nuestro país depende de cada uno de nosotros.
* Un ejercicio útil es grabar un audio de tu discurso para revisar con detenimiento los argumentos elaborados. Asimismo, podrás evaluar el tono de tu voz y las palabras o frases en que pones los énfasis. Analizar estos aspectos te ayudará a ser más convincente ante tu audiencia.
Próximamente ¿Qué fue la Marcha de Washington? de la colección ¿Qué fue…?
For more information visit www.santillanausa.com

Or contact your Educational Sales Representative here.

This month on Spanish Classroom
"Books and movies are like apples and oranges. They both are fruit, but taste completely different."
- Stephen King
2017

2016

2015

2014

2013

2012

2011