Únete a la discusión final de "El lápiz del carpintero" - Resources for your Spanish Classroom
Jul 01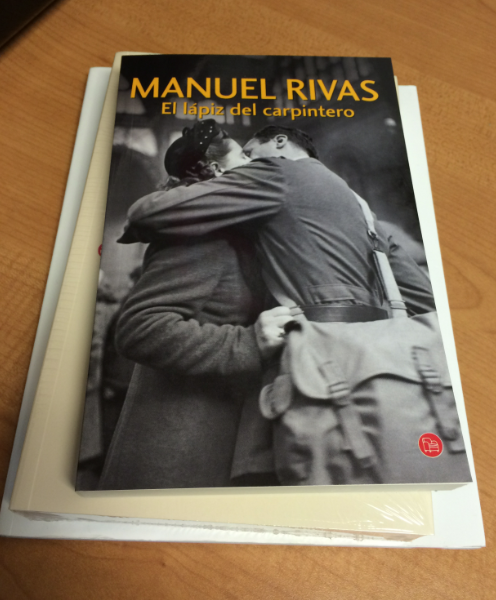 Uno de los elementos que me más me han gustado de esta obra es el uso magistral del lenguaje poético que hace Manuel Rivas en esta novela, no solo por la belleza del lenguaje, sino por la forma de mirar e indagar, mediante las palabras, por todos aquellos rincones de la realidad a los que no se accede con el lenguaje plano de la prosa. Su uso del lenguaje me parece que el ágil y sencillo, las imágenes poéticas salpican la prosa constantemente, de manera que nos prepara para las imágenes del próximo fragmento: no solo describe una caligrafía, sino que, además, informa del origen del social de un hombre, de su escasa formación, de la lucha que significa para él la escritura: " Los abundantes borrones de tinta, cicatrizados con papel secante, parecían vestigios de una fatigosa pelea. De no ser azules se diría que eran gotas de sangre caídas de la frente del escribano. En un mismo párrafo, los palos de las letras de las letras altas, tenían distinta inclinación, hacia la derecha o hacia la izquierda como ideogramas de una flota embestida por el viento".
Las imágenes usadas para describir la naturaleza son bellísimas: el paso de las estaciones por el jardín lo describe, a través de los ojos de la niña, como "obra del jardinero que apaga y enciende los colores."
También el médico hace contribuciones poéticas a la obra. Él es un científico con el don de la palabra, que en algún punto lamenta su incapacidad para la poesía. Pero, aunque no escriba versos, sus palabras están llenas muchas veces de una gran belleza poética: " El bacilo de Koch sembrando tubérculos en el jardín rosado", dice para referirse al un pulmón de un tuberculoso. En fin, para mí en cada una de las páginas de este libro nos encontramos con un lenguaje muy hermoso que suaviza las duras realidades tratadas en la novela.
¿Qué opinas?
This month on Spanish Classroom
Every year, Americans around the nation get together to celebrate Hispanic Heritage Month from September 15th through October 15th. The contributions Hispanic Americans have made to the United States are endless and inspiring, and they have had a profound and positive impact on our county.
Frida Kahlo

By Angela Padrón Frida Kahlo is a famous Mexican artist whose work and life is still...
2016

2015

2014

2013

2012

2011