Una tradición navarra... - Resources for your Spanish Classroom
Jul 07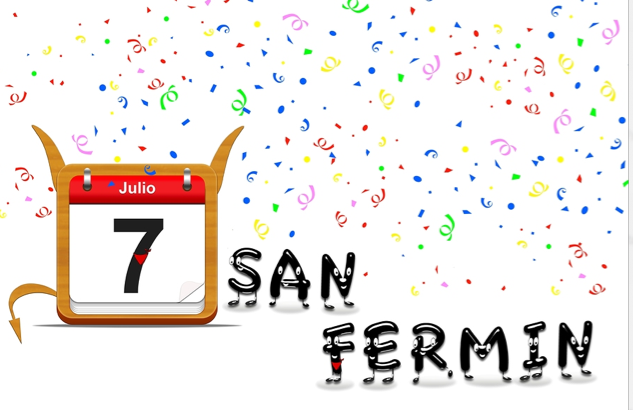 El mes de julio trae el calor agradable y la brisa nocturna del verano. Mientras muchos deciden vacacionar cerca del mar y aprovechar cada rayito de sol, otros toman sus maletas y viajan a Europa para conocer, vivir y disfrutar de una de las tradiciones españolas más antiguas, los Sanfermines.
Miles de turistas del todo el mundo llegan a la ciudad de Pamplona, España. Como cada año, la fiesta en honor a San Fermín comienza en la tarde del 6 de julio, con el lanzamiento del chupinazo* desde el balcón del Ayuntamiento de la ciudad frente a un sinnúmero espectadores. El festejo a San Fermín se extiende hasta el 14 de julio y durante esa semana tienen lugar muchos eventos que cautivan a viajeros de diferentes regiones del planeta.
La historia cuenta que esta tradición tiene sus orígenes en la época medieval cuando ganaderos, mercaderes y, por supuesto, los habitantes de la ciudad organizaban cada año una feria comercial que tenía lugar durante la celebración religiosa que homenajeaba al patrono de Navarra, San Fermín. Los elementos religiosos y paganos se mezclaron para dar lugar a lo que hoy conocemos como los Sanfermines. Aquellos que se acercaban a la feria festejaban al santo patrono pero, además, organizaban corridas de toros y otras actividades para amenizar la feria.
Con las corridas, llegaron los encierros que no es más que dirigir a una manada de toros desde los corrales de Santo Domingo hasta la plaza de toros. Cada día de esa semana, los encierros tienen lugar en la mañana y aunque los horarios han variado a través de los años, lo que no ha cambiado es el peligro que representa correr delante de una manada de seis toros y ocho cabestros. El recorrido es corto y dura de dos a 4 minutos. Antes de liberar a las reses, los corredores, identificados por su indumentaria: camisa y pantalón blancos, y faja y pañuelos rojos, invocan a San Fermín y piden su protección durante la corrida. Los versos que recitan dicen, "A San Fermín pedimos por ser nuestro patrón, nos guíe en el encierro dándonos su bendición. ¡Viva San Fermín! ¡Viva!, Gora San Fermín!" Estos jóvenes suelen ser experimentados corredores que cada año participan de la festividad y se colocan delante de los toros que son liberados de su encierro. También hay turistas que se arriesgan a correr delante de los toros. Otros personajes importantes durante el encierro son los pastores quienes se encargan de guiar las reses que quedan rezagadas hasta la plaza de toros. Los espectadores que no participan se ubican en los balcones de las casas aledañas y desde allí participan con entusiasmo del encierro.
A pesar de que el encierro es el evento más conocido de esta tradición, durante toda la semana, los visitantes pueden disfrutar de de la comparsa que recorre la ciudad cada día. Con la música de los gaiteros, los fuegos artificiales, los gigantes y los cabezudos [grandes figuras de madera, cartón y tela], Pamplona se llena de visitantes y se convierte en el centro de todas las miradas durante la primera semana del mes de julio.
This month on Spanish Classroom
Every year, Americans around the nation get together to celebrate Hispanic Heritage Month from September 15th through October 15th. The contributions Hispanic Americans have made to the United States are endless and inspiring, and they have had a profound and positive impact on our county.
Los sonidos y las letras

Cuando hablamos, pronunciamos sonidos. Los sonidos sirven para distinguir palabras, como por...
2016

2015

2014

2013

2012

2011