Una carta muy particular - Resources for your Spanish Classroom
Jan 05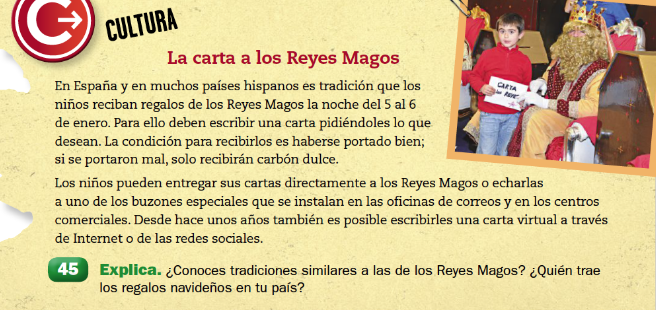 Español Santillana High School Level 4 Activity
La carta a los Reyes Magos
According to Christian tradition, Melchior (representing Europe), Caspar (representing Asia), and Balthazar (representing Africa), traveled to Bethlehem by horse, camel, and elephant to present baby Jesus with gifts. This gift-giving tradition continues in many Spanish-speaking countries on Three Kings Day. In Mexico City, families go to an area close to Alameda Park before January 6th. There, ballons are sold so children can attach their letters to them and have them fly up ot the sky, carrying their petitions to los Reyes Magos.
This month on Spanish Classroom
Every year, Americans around the nation get together to celebrate Hispanic Heritage Month from September 15th through October 15th. The contributions Hispanic Americans have made to the United States are endless and inspiring, and they have had a profound and positive impact on our county.
Los sonidos y las letras

Cuando hablamos, pronunciamos sonidos. Los sonidos sirven para distinguir palabras, como por...
2016

2015

2014

2013

2012

2011