The "Night of the Little Candles"- Resources for your Spanish Classroom
Dec 05
By Anne Silva
One of the most beautiful Christmas-season traditions in the Spanish-speaking world (in my humble opinion) is the Noche de las Velitas, also known as the Alumbrado, in Colombia. To celebrate the Feast of the Immaculate Conception on the 8th of December, Colombians place hundreds—thousands—of candles, lanterns, and lights around their homes and cities. The decorations start well in advance of the festival, but come to a head the night of December 7th, when families stroll about the city admiring the display, eating traditional foods, and enjoying live music, dance, and other events.
You can check out an authentic article about the event here.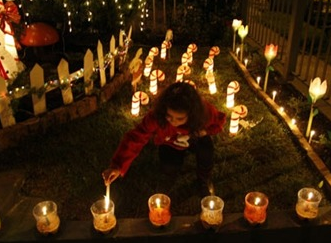 Source and Picture: www.caracol.com
And, if you'd like an audio about this year's event, click here. (link to http://www.wradio.com.co/escucha/archivo_de_audio/recorrido-por-ciudades-de-colombia-por-inauguracion-de-alumbrado-navideno/20141128/oir/2528797.aspx)
Source and Picture: http://www.wradio.com.co
You know what's the only thing that can TRY to dampen this dazzling celebration? Torrential rain. And poor street drainage. And not bringing an umbrella—or boots. When I was in Bogotá, the candles were amazing. Thousands and thousands of little points of light lining the sidewalks on both sides, placed in fantastic patterns right on some streets, in windows, on ledges, in people's hands. But, defying the normal weather patterns for December, inches of rain poured down suddenly, putting a swift end to the little flames, but definitely not to the festivities.
This month on Spanish Classroom
Every year, Americans around the nation get together to celebrate Hispanic Heritage Month from September 15th through October 15th. The contributions Hispanic Americans have made to the United States are endless and inspiring, and they have had a profound and positive impact on our county.
Frida Kahlo

By Angela Padrón Frida Kahlo is a famous Mexican artist whose work and life is still...
2016

2015

2014

2013

2012

2011