Summer Recharge - Resources for your Spanish Classroom
Jun 04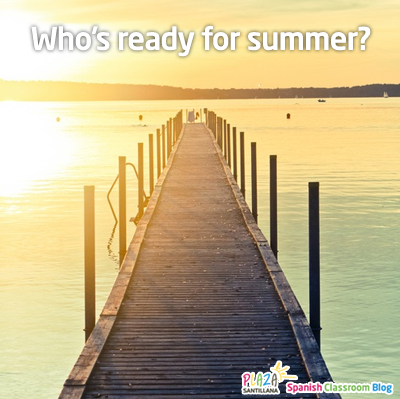 The summer before I started 5th grade, I received a postcard in the mail. It was from Australia, and it was addressed to ME. Just a lowly ten-year-old, I was receiving correspondence from AUSTRALIA! I must be a pretty important person, I reasoned, if I could get mail from overseas!
The postcard was from my soon-to-be social studies teacher, and I later learned that it was his tradition to send postcards to his incoming students from wherever he was traveling that summer.
I was instantly anxious to start social studies class that year. (And that is saying something!) This teacher that I'd never met was suddenly fascinating: not only did he travel to interesting places, but he sent mail to students he hadn't yet met, and even more interestingly, it seemed that he continued to exist once the school year ended! Everyone knows—or rather, every ten-year-old knows—that teachers cease to exist once you leave school for the year. Or perhaps they just live at school. Same thing, in my mind. Teachers certainly don't DO interesting things, or GO interesting places, or LEARN cool stuff. Right?
Well, while not everyone can take a trip to an exotic locale every summer, teachers certainly do deserve to enjoy their summers outside of school! You've worked so hard all year, and if you feel like spending every day of summer just LYING STILL and not moving or speaking any more than necessary, goodness knows you deserve it. Umbrella drinks and cheesy murder mystery novels? You got it. And those people who live in your house who call you "Mommy" or "Daddy" or "Honey"? Yeah, you might even get to hang out with them a bit, too.
Here at Plaza Santillana, we would like to enrich your summer even more. We want you to take whatever time you can this summer to recharge your energy, but also your enthusiasm for the subject you teach. And while we would love to send each of you on a Fabulous All-Expenses-Paid trip around the Spanish-speaking world (take us with you!), well,... maybe next year. But what we CAN try to do is bring the awesomeness of Spanish-speaking cultures directly to you! And we're also asking you to share some of your exciting experiences or interesting anecdotes with the rest of us. Those stories that your spouse or kids are sick of hearing? Lay 'em on us! The fascinating article your mother sent you about a cool plant found only in southern Chile? Can't wait to read about it. An up-and-coming Argentinian musician you can't get enough of? Let us groove along with you. Bottom line? The more enjoyable, the better. We want to fill your summer with all the fascinating stuff we can so that your tired mind can disconnect a little bit from the stresses of "schoolyearitis," and refill itself with the wonders that made you fall in love with the Spanish language and cultures to begin with.
Check back often for plenty of exciting stories, fun readings for you and maybe even your students, cool facts and information, and even a summer reading book club! You know, since they aren't making you live at school for the summer...
This month on Spanish Classroom
"Books and movies are like apples and oranges. They both are fruit, but taste completely different."
- Stephen King
It's Christmas Time!

By- Angela Padrón When most people today think of Christmas, symbols like trees,...
2017

2016

2015

2014

2013

2012

2011