Student Placement, Placement Tests, Credit-by-Examination, and Credits for Graduation – Part 2 - Resources for your Spanish Classroom
Jan 29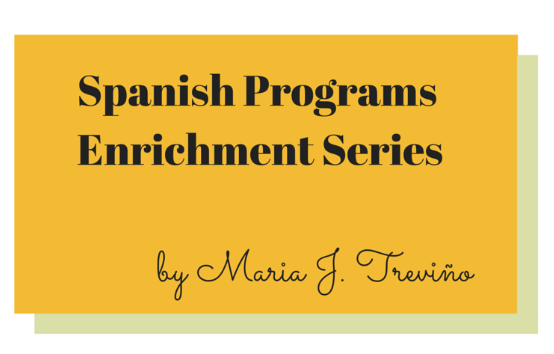 Placement tests are exactly what they denote. They are tests used to place students in appropriate classes. In the case of students who have previous knowledge of Spanish, the placement test is used to place them in the correct level of Spanish based on their language proficiency.
First, let's review the sequence of Spanish courses. The assumption is that students increase their language skills as they progress from Spanish 1 to Spanish 2 to Spanish 3 and so forth. Spanish 1 is a course for beginners with no previous knowledge of Spanish. Students start at zero language ability and possibly finish Spanish 1 at a novice-low proficiency. In Spanish 2, students would increase their proficiency to possibly novice-mid/high. In Spanish 3, the students would increase their proficiency to possibly intermediate low/mid and so forth. Districts may have different expectations for each level.
Second, having stated a general assumption, let's review a basic placement test. The placement test is meant to assess the language proficiency of the student. Thinking of the proficiency expectations of what students are expected to achieve at each language level, a district could develop a placement test based on the four communication skills of listening, speaking, reading, and writing. The test could be developed by a team of Spanish teachers, who are very familiar with proficiency levels, in such a manner that it includes test items representing the proficiency descriptors ranging from novice-low to intermediate-mid and possibly intermediate-high or higher if native Spanish-speakers are being tested. Refer to the ACTFL Proficiency Guidelines previously discussed for the proficiency descriptors.
Third, it's time to administer the test. It is recommended that the students be tested during the school day but not in the classroom if class is being taught as usual. For one or two class periods, students that are to be tested could be pulled out from class to take the placement test in the library or other designated area. This will provide better testing results as students will not stay or cannot stay after school due to other school related conflicts such as band and athletics.
Finally, it's time to review the placement test results and place the students according to their test results. There are several factors to consider. What if a student does well enough in listening and speaking to be placed in a higher level of Spanish, but his/her reading and writing skills are slightly lower? Can the student increase his reading and writing at that level? What if the student had a mixture of correct answers in each level? This is where the team evaluates the results closely to determine the best level for the student. Once the student is in class and the teacher notices that the student can perform at a higher level, the student can be moved to a higher level course.
Districts may develop their own placement tests for Spanish or may purchase some that are available in the educational market. Placement tests are not perfect but they serve as a useful tool to assess student language skills and place them accordingly. Districts are encouraged to develop district policies that address placement testing. It is not good policy for students to finish a dual language program in elementary school and then have them start with Spanish 1 in middle school or for high schools not to accept Spanish courses from middle school and have students start with Spanish 1 in high school. Sadly this does happen sometimes so as professionals we must do our best to have policies in place that help our students move forward.
María J. Fierro-Treviño
Instructional Specialist, Northside Independent School District, San Antonio, TX. (Retired)
Director for Languages other than English, Texas Education Agency (Retired)
This month on Spanish Classroom
Every year, Americans around the nation get together to celebrate Hispanic Heritage Month from September 15th through October 15th. The contributions Hispanic Americans have made to the United States are endless and inspiring, and they have had a profound and positive impact on our county.
Los sonidos y las letras

Cuando hablamos, pronunciamos sonidos. Los sonidos sirven para distinguir palabras, como por...
2016

2015

2014

2013

2012

2011