¡Seguimos de carnaval! - Resources for your Spanish Classroom
Mar 18
Carnaval en Canarias, de Fernando Uría / Leer en español Nivel 4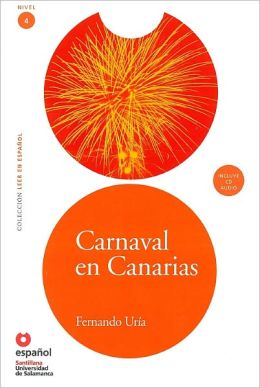 Para descargar el eBook haz clic aquí.
Carnaval… días de fiesta donde no hay orden, ni trabajo, ni preocupaciones.
Los disfraces y las máscaras ocupan las calles.
De la noche a la mañana todos bailan, cantan, se divierten…
Teodoro Ullman, un ingeniero sueco, llega a Tenerife en un viaje de negocios. Con la ayuda de Marilyn debe conseguir un contrato muy importante. Pero su visita va a ser muy diferente de lo que esperaba. Pronto comprenderá que en tiempos de Carnaval… ¡más vale unirse a la fiesta!
Leer en español es una serie de lecturas graduadas organizadas en seis niveles. Ofrece tanto creaciones originales de diversos géneros (relatos de corte policíaco, cuentos, biografías, temas históricos, etc.) como adaptaciones de obras literarias clásicas y modernas. La división en seis niveles permite que los textos sean accesibles al estudiante en cada etapa de su aprendizaje, ya que la progresión léxica y gramatical está estrictamente controlada y dosificada. Al final de cada libro, se incluyen actividades y un glosario.
Carnaval en Canarias pertenece al Nivel 4 de Leer en español (menos de 1500 palabras).
¡Sigue visitando nuestro blog esta semana y encontrarás actividades para tu clase!
This month on Spanish Classroom
Every year, Americans around the nation get together to celebrate Hispanic Heritage Month from September 15th through October 15th. The contributions Hispanic Americans have made to the United States are endless and inspiring, and they have had a profound and positive impact on our county.
Frida Kahlo

By Angela Padrón Frida Kahlo is a famous Mexican artist whose work and life is still...
2016

2015

2014

2013

2012

2011