Se habla español - Resources for your Spanish Classroom
Sep 29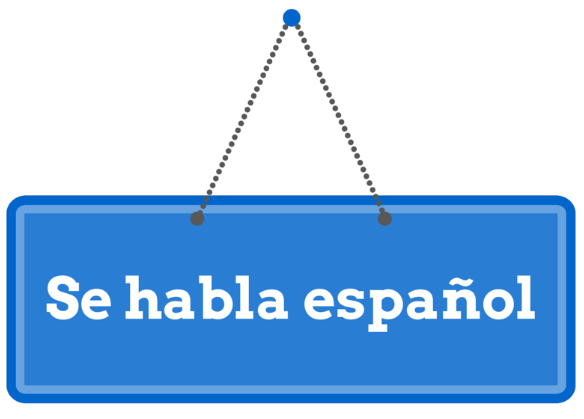 Cuando leo o escucho esta frase en la televisión o en algún anuncio pienso en la transformación y en los cambios que ha experimentado la cultura estadounidense con la innegable influencia hispana que ha aumentado con el devenir de los años. Sabemos que el idioma de Cervantes es hablado por más de 38,3 millones de habitantes en este país y que muchos estudiantes elijen estudiar este idioma como una segunda lengua como parte de sus currículos académicos. Pero la apertura a la cultura hispana se ha consolidado en los Estados Unidos gracias a nuestro legado cultural.
Mientras seguimos celebrando el Mes de la Herencia Hispana en los Estados Unidos hasta el 15 de octubre, esta vez nos referiremos a las contribuciones culturales con las que seguimos enriquecido la cultura norteamericana. Las comidas, los festivales y los valores familiares son, por sólo mencionar algunos, elementos esenciales de nuestra cultura que han tenido una gran acogida por la comunidad norteamericana.
La gastronomía estadounidense se ha nutrido con una variedad enorme de sabores y colores que brotan de las cocinas latinas. Entre tacos, salsa picante, chiles y tortillas, las franquicias norteamericanas como Taco Bell han florecido gracias a los sabores de la cocina Tex-Mex. Esta cadena de comida rápida fue fundada en 1962 por Glen Bell en San Bernandino, California. El empresario notó que San Bernardino era un barrio muy importante para la comunidad mexicana californiana y de ahí, decidió experimentar con la gastronomía mexicana. No se puede dejar de mencionar las cocinas caribeñas representadas por Puerto Rico, Cuba y la República Dominicana. El lechón, los tostones y los frijoles, entre otros, han pasado a formar parte de los menús en muchas de las escuelas públicas en distintos distritos escolares. Tampoco podemos dejar de mencionar las arepas, las empanadas, los tamales y los pastelitos que se han vuelto aperitivos infaltables en las reuniones sociales.
De la riqueza culinaria hispana que invade las calles de New York, Los Ángeles y Miami, pasamos a las celebraciones que los norteamericanos han adoptado como parte de su cultura. Por supuesto, el cinco de mayo ha sido una de las festividades que más acogida ha tenido por la comunidad americana. Aunque muchos no conocen el origen de la celebración y suelen confundirla con el día de la independencia de México, lo cierto es que este día muchos ciudadanos se atavían con sobreros mexicanos para celebrar la cultura mexicana. Otros se aventuran a entonar canciones en español mientras son acompañados por la música de los mariachis en fiestas o reuniones entre amigos. Otra gran celebración es el Carnaval de la Calle Ocho que agrupa a varios artistas de origen hispano. Reunidos en esta céntrica calle de la ciudad de Miami, los artistas y personalidades de la cultura deleitan con canciones y bailes a un nutrido y heterogéneo público. Turistas de todas partes del país participan de esta celebración mientras disfrutan del envidiable clima tropical del sur de la Florida, de la alegría de su gente, de la gastronomía miamense y de su cultura latina.
"Mi casa es tu casa" versa el refrán que indica que para los hispanos la hospitalidad es uno de los valores cívicos más importantes de la sociedad. La familia es el núcleo fundamental de nuestra cultura; el contacto frecuente entre hermanos, crecer rodeados de abuelos, primos y tíos es para muchos hispanos la base de una buena educación. De la misma manera, la amistad caracterizada por la lealtad y la incondicionalidad para con el amigo teje relaciones sanas y nos ayuda a vivir en armonía en esta sociedad tan diversa. Por último, esa alegría, esa espontaneidad que nos caracteriza a los hispanos que a veces choca con la seriedad de los norteamericanos ha ido ahondando en la cultura estadounidense y cada día más, vemos a jóvenes nacidos en este país abiertos a aceptar el abrazo fraternal de un amigo o el beso en la mejilla de una amiga.
Así como la fisonomía de este enorme país está cambiando, lo mismo está sucediendo con su cultura. Si trabajamos juntos, aceptándonos como somos y abiertos a las diversidad, podremos lograr grandes cosas juntos.
This month on Spanish Classroom
Every year, Americans around the nation get together to celebrate Hispanic Heritage Month from September 15th through October 15th. The contributions Hispanic Americans have made to the United States are endless and inspiring, and they have had a profound and positive impact on our county.
Los sonidos y las letras

Cuando hablamos, pronunciamos sonidos. Los sonidos sirven para distinguir palabras, como por...
2016

2015

2014

2013

2012

2011