Scary Cuentos to Leer in the Dark - Resources for your Spanish Classroom
By Spanish Classroom
2238 Views
Oct 20
It's almost Halloween! This year, instead of the well-worn lecture about El día de los muertos, let's scare up some spooky stories from other parts of the Spanish-speaking world! Share these legends with your students or have them look up others… if you dare!
On a trip to the Colombian Amazon, I went for a nighttime canoe ride. The canoe was terribly wobbly, and our guide sat up front telling us stories in a low voice, his Spanish low and monotone, with a strong accent of his native Ticuna language. So between trying not to fall out of the canoe and straining to understand, his voice seemed to hypnotize us as he told us stories about the mysterious creatures that live in and around the river.
The pink dolphins (bufeo colorado), he said, can turn into handsome young men who seduce the native girls. They visit the young women at night, always leaving before sunrise. They eventually lure them to the river, and neither is ever seen again. You can tell a bufeo when he is in human form, though, because he will be wearing a hat to cover his blow hole on the top of his head.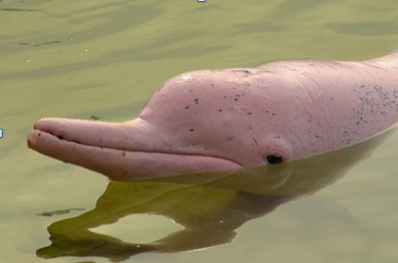 Image Source: http://www.riverfoundation.org.au/admin/articles/article__image_51_1.jpg
And on land, there are even more tricky creatures just waiting to trick you into getting lost. The most nefarious is the chullachaqui, a goblin-like nymph that can take human form. One foot is pointed backwards, our guide told us, so that if you see his tracks and try to follow, you won't know which way he was going, and will get lost in the thick jungle. Even worse, he will bang on a ceiba trunk with a stick—the local signal that you are lost, and to please send help. When the villagers come to help the lost traveler, they will only see the misleading tracks and get lost themselves.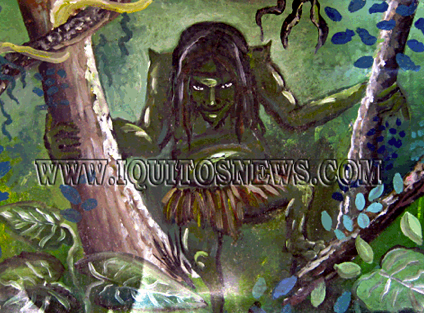 Image source: http://www.iquitosnews.com/chullachaqui-esp.html
The curupira also lives in the Amazon forest, and he protects the plants and animals from hunters or visitors who take more than they need. He is a dwarf or nymph-like creature with bright red hair, and his feet are also backwards to confuse those who try to follow him.
And finally, the most feared inhabitant of the Amazon River: the Yacumama. Like an anaconda but bigger, over 100 feet long, with horns on its head. It is able to shoot its prey down with enormous jets of water or suck anything in its path into its mouth. It is claimed that it protects the river from those who do not respect it.
And if that didn't give you the creeps, check out what was waiting for us once we got back to shore…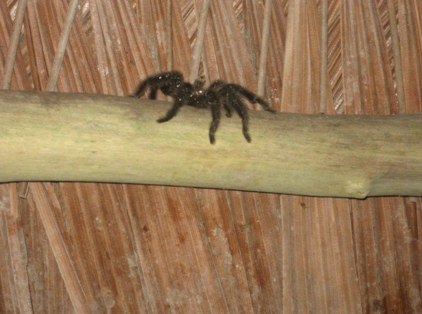 Image Source: Me!
This month on Spanish Classroom
Every year, Americans around the nation get together to celebrate Hispanic Heritage Month from September 15th through October 15th. The contributions Hispanic Americans have made to the United States are endless and inspiring, and they have had a profound and positive impact on our county.
Los sonidos y las letras

Cuando hablamos, pronunciamos sonidos. Los sonidos sirven para distinguir palabras, como por...
2016

2015

2014

2013

2012

2011