¡Únete a nuestro club de lectura! - Resources for your Spanish Classroom
By Spanish Classroom
3697 Views
May 29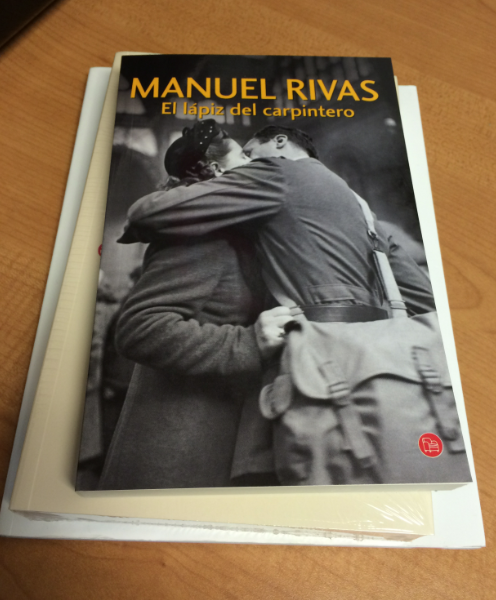 Estamos súper contentos de iniciar nuestro primer club de lectura, y para éste hemos seleccionado una novela del escritor español Manuel Rivas, El lápiz del carpintero.
Acompáñanos a disfrutar de esta historia de amor.
En la cárcel de Santiago de Compostela, en plena Guerra Civil, un pintor dibuja el Pórtico de la Gloria con un lápiz de carpintero, reflejando los rostros… y aun más, la desesperación de sus compañeros de presidio. Un guardián, su futuro asesino, lo observa todo. A partir de aquí se dibuja una historia donde el amor logra vencer a la desesperación.
Manuel Rivas nació en A Coruña. Desde muy joven trabajó en prensa y sus reportajes y artículos están reunidos en El periodismo es un cuento (1997), Mujer en el baño (2003) y A cuerpo abierto (2008). Una muestra de su poesía está recogida en la antología El pueblo de la noche (1997) y La desaparición de la nieve (2009). Como narrador obtuvo, entre otros, el Premio de la Crítica española por Un millón de vacas (1990), el Premio de la Crítica en Gallego por En salvaje compañía (1994), el Premio Nacional de Narrativa por ¿Qué me quieres, amor? (1996), el Premio de la Crítica española por El lápiz del carpintero (1998) y el Premio Nacional de la Crítica en Gallego por Los libros arden mal (2006), considerada como una de las grandes obras de la literatura gallega y elegida Libro del Año por los Libreros de Madrid. Todo es silencio (2010) fue finalista del Premio Hammett de novela negra. En 2011, Alfaguara publicó sus cuentos reunidos bajo el título Lo más extraño. Su última novela es Las voces bajas (2012).
Espero que disfruten de esta maravillosa novela, nos vemos aquí en Plaza Santillana el próximo jueves 26 de Junio para intercambiar comentarios y opiniones acerca del libro.
¡Las primeras 40 personas en completar el formulario recibiran una copia gratis! Haz clic para llenar el formulario y empezar a disfrutar de esta historia.
¡Únete a nuestro club de lectura!
This month on Spanish Classroom
"Books and movies are like apples and oranges. They both are fruit, but taste completely different."
- Stephen King
It's Christmas Time!

By- Angela Padrón When most people today think of Christmas, symbols like trees,...
2017

2016

2015

2014

2013

2012

2011