Popotillo- Resources for your Spanish Classroom
Mar 30
Popotillo
If you have an extra broom and some food coloring you just might have the basics for a great activity for your Spanish classroom.
Popotillo is an art form practiced mostly in southern and central Mexico. There are many examples from as far back as pre-Columbian times and families still practice it today.
Popotillo are straw mosaics made from sacaton grass or popote de cambray. If you've seen or have a straw broom you will recognize the grass.
To provide color, the grass is colored using natural dyes made from plants and vegetables and boiled or soaked in agave juice or aguamiel, a honey water. Each straw is kept to the longest length possible. You could try it with food coloring.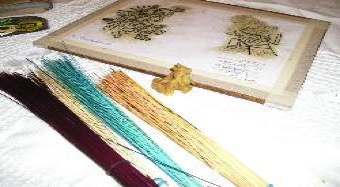 Next, the artist draws a design. Many themes are used but most are landscapes and churches and a variety of other Mexican themes. A working surface, usually a wooden plank, is prepared by covering it with a fine layer of beeswax called "cera de Campeche". You can use softened beeswax or glue that dries clear for your project.
The design is transferred to the work surface, which can be as small or as large as you dare. Some artisans still use carbon copy paper but most work from memory. You can have your student draw directly onto the wax or use a mirror image onto the work surface.
When I first saw the work I was in Puebla and almost everything we saw included the volcano, Popocatepetl.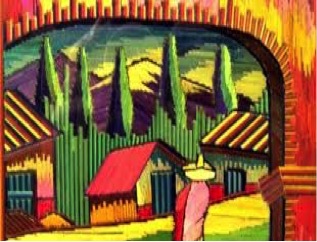 You can see the smoke spewing from Popo if you look closely enough.
Notice that each color and direction change is a different straw. Some of the straws are smaller than the depth of a fingernail, really tiny. Each piece of each straw is placed one by one onto the surface and pushed into the wax. Some complicated pieces can take weeks to finish, but a master did this one in just 10 minutes. And he had no design to follow, he did it all in his head and his hands just flew as he put down and cut each piece of straw. The completed piece is just a 2" by 2" square but I treasure it. The "master" was all of 14 years old and he told me he had been making popotillo art since he was three!
By the way, if you do this in your class, be sure that when you finish your work you seal it with some sort of lacquer or shellac. That way your students will have a treasure that will last. Be sure and let them know they are carrying on a tradition that has been around for more than 600 years. Can they think of anything else they do that has been around that long?
Have fun and if you want to see popotillo making in action there are loads of YouTube videos. Look for the ones from Michoacan and Puebla, they are the best.
Happy popotillo making!
This month on Spanish Classroom
Every year, Americans around the nation get together to celebrate Hispanic Heritage Month from September 15th through October 15th. The contributions Hispanic Americans have made to the United States are endless and inspiring, and they have had a profound and positive impact on our county.
Los sonidos y las letras

Cuando hablamos, pronunciamos sonidos. Los sonidos sirven para distinguir palabras, como por...
2016

2015

2014

2013

2012

2011