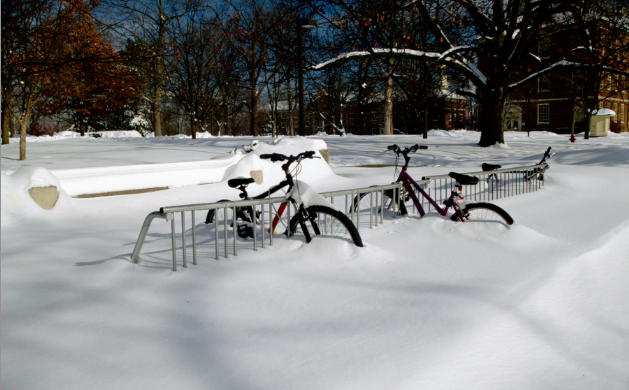 Have you put your pajamas on backwards or inside-out lately? Done a special little dance before bed? Followed those bizarre little rituals hoping for that fabulous announcement that school will be canceled yet again due to snow? Or are you so over it by now that you're ready to dog-sled into work just to get out of the house?
I love snow days, and I hate them at the same time. One or two in the middle of an interminable week at some point in the winter is just the ticket to keep me sane. But I wonder what the magic number is where you go from blissful cocoa-drinking to cursing every little snowflake? We all know that this year has had unprecedented winter weather in many parts of the country; maybe you are still in the snow-day-honeymoon phase. Or maybe you're so used to it by now (I'm looking at YOU, Cleveland!) that you wonder what all the fuss is about.
I think the thing we can all agree upon is that while a break in routine (and maybe an hour more sleep) is sometimes a great thing, too many of them make us cringe for our students' progress in Spanish class. 50 minutes a day, five days a week, isn't nearly enough time to adequately absorb a second language, especially for students who didn't even start until they were already in high school. And spring is coming, bringing with it a hundred little hiccups in an already tight schedule: standardized testing, senior events, prom, pep rallies, etc, etc, etc. Sometimes, winter is the time when you actually feel like you've got some momentum going in class, and too many snow days can really disrupt that.
That being said, until we can control Mother Nature, what can we DO about it? I have a couple of ideas, but I'd love to hear what you think.
I think, to begin, that we can maintain our rigorous expectations for our students, and let them know it. We already teach our students discipline every day, and part of being a disciplined person is maintaining the course despite unforeseen circumstances.
We can also aim to bring Spanish to life for our students in a way that gives them a passion for the language and its cultures, even on days with no Spanish class. Easier said than done, perhaps, but still achievable, I feel.
And finally, for our own sake, we can use snow days as an opportunity to rest, recharge, connect with our kids and loved ones if possible, learn something new, refresh our minds and spirits. We educate our students not only by what we tell them, or what they do in class, but by who we are, the energy we bring to class, and our attitude toward them, our colleagues, our subject, and ourselves. Since we can't control the weather, we should do all we can to gather our strength, so that the second half of the school year can be even more successful than the first.
So what do you think? Are you on board? Or just bored? What do you do to make your snow days fabulous? How do you maintain momentum when your winter quarter is as full of potholes as your street is?