Nuestra cultura, nuestras tradiciones - Resources for your Spanish Classroom
Mar 02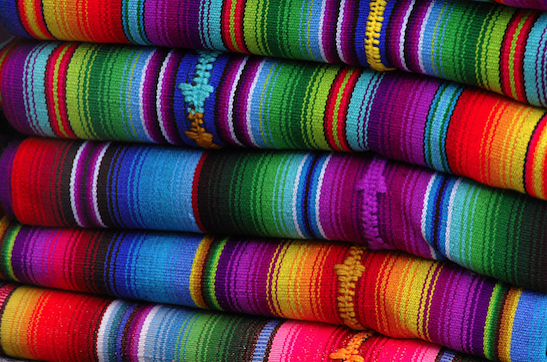 By Evelyn Silva
Vivimos en un continente inmenso que lleva en sus entrañas miles de historias y tradiciones. Somos hijos del indio, del africano y del español y por nuestras venas suenan el charango, los bongos y las castañuelas. Somos un pueblo que ha escrito su historia a través de los siglos. Nuestra cultura es una amalgama músicas, comidas, bailes y tradiciones populares.
Si hacemos un repaso del continente, yendo de sur a norte, tenemos que detenernos en el Cono Sur y escuchar atentamente las chacareras, interpretadas con guitarra, bombo y violín. También escuchamos tonadas que fueron adoptadas y adaptadas para recrear los ritmos cantábricos añadiéndoles elementos y latinoamericanos. De los Andes nos llevamos la música andina cargada de melodías nostálgicas, interpretadas con quenas, zampoñas y charangos. Del tango rioplatense a la salsa, de la samba brasileña a rumba cubana, nuestra música es una mezcla de ritmos vibrantes que se instalado en nuestra identidad y que nos representan donde quiera que estemos.
Si la música es uno de los componentes más distintivos de nuestra cultura, la comida es el corazón que alimenta esta cultura tan ecléctica. La gastronomía latinoamericana es una fusión de ingredientes autóctonos, europeos, africanos, indios y asiáticos que se han instalado en las cocinas de nuestro continente a través de las diferentes oleadas de inmigrantes. Este flujo de culturas que ha llenado nuestras alacenas de aromas y colores que se han adueñado de las recetas tradicionales. Esta fusión de sabores ha enriquecido el paladar latinoamericano y entre ceviches, sopaipillas, asados, arepas, sancochos, feijoadas, un manjar blanco y un cafecito "cubano" vamos celebrado las tradiciones y culturas de nuestros países.
Pero la cocina y es paladar no son los únicos elementos que definen nuestra cultura. Alrededor de la gastronomía se tejen experiencias culturales que nos definen como latinoamericanos. Ese momento del día de sentarse todos a la mesa, de compartir en familia las vivencias diarias, de disfrutar de una sobremesa acompañada de un postre o un cafecito o de compartir un almuerzo prolongado en la casa de los abuelos con los tíos y los primos un domingo cualquiera, son costumbres y hábitos que moldean nuestra identidad.
No se pueden dejar de mencionar nuestras festividades, los bailes y las costumbres de nuestros pueblos. Entre flores y cantos, los latinoamericanos celebramos la vida y la muerte con la misma pasión y devoción. Estas celebraciones se han convertido un elemento fundamental de nuestra tradición cultural. En México, el Día de los muertos el 2 de noviembre fusiona una celebración católica con tradiciones indígenas mayas y aztecas para conmemorar la vida de los fieles difuntos. Tanto en Brasil como en el Caribe, los carnavales son una de las fiestas más esperadas durante todo el año. Con un trasfondo religioso, los carnavales fueron introducidos por los inmigrantes europeos pero inmediatamente pasaron a formar parte del imaginario latinoamericano. No se puede negar que los componentes africanos como la música, los bailes, los disfraces, etc. le aportaron un colorido y una energía incomparable a estas celebraciones. Entre bailes populares, cantos, carroza y comparsas, los carnavales festejan la mezcla de culturas.
This month on Spanish Classroom
"Books and movies are like apples and oranges. They both are fruit, but taste completely different."
- Stephen King
It's Christmas Time!

By- Angela Padrón When most people today think of Christmas, symbols like trees,...
2017

2016

2015

2014

2013

2012

2011