Meet Rosana Acquaroni at The Americas Poetry Festival of New York - Resources for your Spanish Classroom
By Spanish Classroom
1599 Views
Oct 16
Instituto Cervantes New York at Amster Yard
Closing Ceremony, Multilingual Poetry Reading
Friday October 17th, 7:00-8:30 pm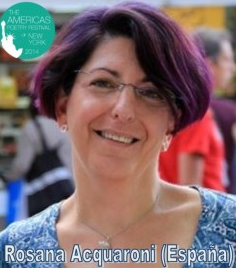 poetryny.com
Rosana Acquaroni (España, Madrid, 1964). Poet, visual artist and educator. She earned a doctorate in applied linguistics at Universidad Complutense de Madrid. She has published five poetry collections: Del mar bajo los puentes (1988); El jardín navegable (1990); Cartografía sin mundo (1995) & Lámparas de arena (2000)& Discordia de los dóciles(2011).Her poems have been translated to several languages and received literary awards.
Rosana Acquaroni is also the author of Santillana USA's Leer en español Introductury Series:
Guillermo es fotógrafo. Su camara es su mejor amiga. Con ella
ha viajado por todo el mundo, con ella trabaja horas y horas desde
su ventana.
Todos los días, Guillermo observa la calle, con su vieja cámara
siempre preparada.
Hasta que una tarde algo ocurre allí abajo.
Algo muy raro y quizás peligroso.
Por primera vez en su vida, Guillermo tiene miedo de su cámara...
This month on Spanish Classroom
Every year, Americans around the nation get together to celebrate Hispanic Heritage Month from September 15th through October 15th. The contributions Hispanic Americans have made to the United States are endless and inspiring, and they have had a profound and positive impact on our county.
Frida Kahlo

By Angela Padrón Frida Kahlo is a famous Mexican artist whose work and life is still...
2016

2015

2014

2013

2012

2011