Meet our Author of the Month "Gary Soto" - Resources for your Spanish Classroom
May 09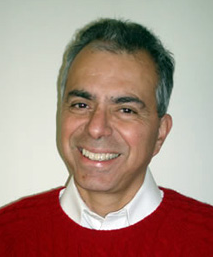 Gary Soto
Our featured author of the month was born and raised in Fresno, California. His family didn't have many books around when he was growing up, and no one really encouraged him to read. In fact, he never thought about being a writer.
After high school Gary went to the California State University at Fresno to study geology. One day he came across a book of poetry on a shelf in the college library. He read it, liked it, and began to write poems of his own. He enrolled in his first poetry-writing when he was twenty years old and decided to become a writer. Gary graduated from the university with a degree in English, then went on to get a Master of Fine Arts in Creative Writing. He has been writing poetry, short stories, and novels for children and adults ever since.
He is now a distinguished professor a the University of California at Riverside.
Much of his work seems autobiographical, because he writes about growing up as a Mexican American. It's importnat to him to create and share new stories about his heritage.


Titles by Gary: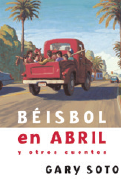 Béisbol en abril y otros cuentos
In this unique collection of short stories, the small events of daily life reveal big themes—love and friendship, youth and growing up, success and failure. Calling on his own experiences of growing up in California's Central Valley, poet Gary Soto brings to life the joys and pains of young people everywhere. The smart, tough, vulnerable kids in these stories are Latino, but their dreams and desires belong to all of us. This tittle is part of our A+ Spanish Literacy Kits.

Cruzando el Pacífico
In Japan for the summer to practice the martial art of kempo, Lincoln sometimes feels like little more than a brown boy in a white gi. Yet with the help of his Japanese "brother", Mitsuo, Lincoln sees that people everywhere, whether friend or kempo opponent, share passions much like his own—for baseball, family traditions, and new friendships.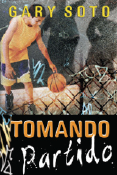 Tomando Partido
Lincoln is in a jam when his basketball team at this new school—where the students are rich and mostly white—faces his old team from the barrio on the boards. How can he play his best game against his friends? Yet how can he betray his new teammates by not giving the game everything he's got? No matter who wins, it looks like it will be a lose-lose situation for Lincoln.
This month on Spanish Classroom
Every year, Americans around the nation get together to celebrate Hispanic Heritage Month from September 15th through October 15th. The contributions Hispanic Americans have made to the United States are endless and inspiring, and they have had a profound and positive impact on our county.
Los sonidos y las letras

Cuando hablamos, pronunciamos sonidos. Los sonidos sirven para distinguir palabras, como por...
2016

2015

2014

2013

2012

2011