Manuel Rivas. El autor y su obra - Resources for your Spanish Classroom
Jun 25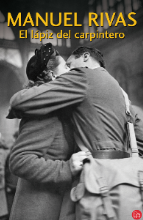 El autor. Trayectoria vital y personalidad

Manuel Rivas nace en A Caruña en 1957, y Galicia es un referente de gran importancia en su obra. De su etapa de formación las reseñas biográficas destacan su pasión por la escritura desde la adolescencia y su trabajo como meritorio en un periódico cuando todavía era estudiante de bachillerato. Tras estudiar Periodismo, fue nombrado subdirector de Diario de Galicia. Colabora en El País y en destacados periódicos gallegos. Además de sus contribuciones periodísticas, escribe poesía y narrativa, compartiendo el mundo de la prensa y el de la literatura al igual que hicieron otros eminentes escritores gallegos, como Álvaro Cunqueiro, Castelao, Curros Enríquez…
El rasgo más característico de Manuel Rivas, tanto en su actitud social como en su tarea de escrito, es la sensibilidad para percibir los problemas de su entorno y comprometerse con ellos, adoptando una postura crítica ante el pensamiento único. Socio fundador de Greenpeace, lo cual es muestra de su inquietud ecológica, es habitual que tome postura ante asuntos concretos que afectan a la sociedad y al ciudadano, y suele manifestar sus puntos de vista a través de los medios y en la acción cívica, como recientemente sucedió con el desastre del Prestige y el movimiento Nunca Mais.
De ese mismo fondo de intereses humanos y sociales surge una literatura comprometida con la justicia, el dolor, el mundo del trabajo, en unos tiempos en los que el compromiso del artista no ha sido una postura habitual. Es cierto que tampoco es una premisa artística necesaria, pero en el casa de Manuel Rivas es un dato fundamental para acercarse al conocimiento de su persona de su obra. Él mismo ha expresado la relación de la literatura con el compromiso social: «La idea de cuestionar el compromiso de la literatura es una idea muy política que tiene que ver con la usurpación de la democracia, del concepto de ciudadano por el consumidor. Realmente la historia refleja el compromiso de la literatura y el arte en general. Pensemos sólo en dos nombres y en su obra: Goya y Cervantes. Sacudir las conciencias comenzando por la propia, ése es el elemento imprescindible». Y añade a la manera de Miguel Torga «El primer compromiso del escritor es escribir».

Otras obras del autor

Artículos, poesía, novela y relatos componen el conjunto de la obra de Manuel Rivas. Toxos e flores (1992), Galicia, el bonsai atlántico (1994), El periodismo es un cuento (1977), Galicia, Galicia (2001), Mujer en el baño (2003), recopilan artículo periodísticos. El pueblo de la noche, publicado en 1997, es una antología de poemas que recorre los libros anteriores.
Entre las novelas y cuentos se encuentran Un millón de vacas (premio de la Críticas españolas, 1990), Los comedores de patatas (1992), En salvaje compañía (premio de la Critica en Galicia en 1994), ¿Que me quieres, amor? (premio Torrente Ballester y Nacional de Narrativa en 1996), Ella, maldita alma(1999), La mano del emigrante (2001), Las llamadas perdidas (2002).
En la lectura de sus relatos, escritos con su estilo característico, se tiene la impresión de retornar una y otra vez a un mismo universo geográfico y moral, a unos personajes similares, aunque con distintos nombres y circunstancias. Impresión que se corrobora con las propias palabras de Rivas: «Las mías son historias que crecen de distinta forma, pero hay hilos invisibles entre ellas».


This month on Spanish Classroom
"Books and movies are like apples and oranges. They both are fruit, but taste completely different."
- Stephen King
2017

2016

2015

2014

2013

2012

2011