Los sonidos y las letras - Resources for your Spanish Classroom
Dec 01
Cuando hablamos, pronunciamos sonidos.
Las letras son la forma de representar esos sonidos al escribir.
El abecedario o alfabeto es el conjunto de las letras de una lengua.

Clases de sonidos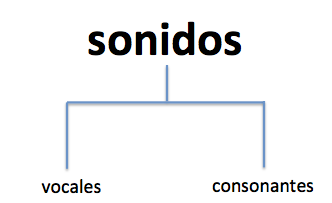 Vocales: a, e, i, o, u.
Las vocales pueden ser:
Abiertas: las que se pronuncian con la boca más abierta: a, e, o.
Cerradas: las que se pronuncian juntando más los labios: i, u.
Consonantes: b, c, d, f, g, h, j, k, l, m, n, ñ, p, q, r, s, t, v, w, x, y, z.

Correspondencia entre sonidos y letras

En castellano, como en otras lenguas, los sonidos no siempre se corresponden exactamente con las letras.
-Un mismo sonido puede ser representado por diferentes letras: La i y la y representan el mismo sonido en palabras como reina y rey.


-Una misma letra puede representar distintos sonidos:
La letra c representa distintos sonidos: z (ciervo) y k (casa).


-Hay una letra, la h, que no representa ningún sonido: hormiga.






A world full of cultural adventures.

This grammar mini lesson is included in the Manual del lenguaje from our Descubre el español Elementary Program.



This month on Spanish Classroom
Every year, Americans around the nation get together to celebrate Hispanic Heritage Month from September 15th through October 15th. The contributions Hispanic Americans have made to the United States are endless and inspiring, and they have had a profound and positive impact on our county.
2016

2015

2014

2013

2012

2011