Los estudiantes aman el español porque... - Resources for your Spanish Classroom
Feb 27
Los estudiantes aman el español porque aprenden mucho sobre diferentes culturas hispanas y naturalmente aprenden a hablar español en el proceso de conocer a la gente de los países hispanohablantes a travės de varias actividades. ¿Qué hacen los estudiantes en clase para amar el español?
Actividad para el estudiante: Lee los rectángulos de la flor semántica. Escribe un párrafo utilizando las frases de los rectángulos. Personaliza tus respuestas según las actividades. Después escoge una actividad que no has hecho y hazla. Escribe sobre tu experiencia con la actividad. [Nota para el profesor: Asigne las siguientes actividades del la flor semántica, y pida a los estudiantes un informe o presentación a la clase sobre la actividad realizada.]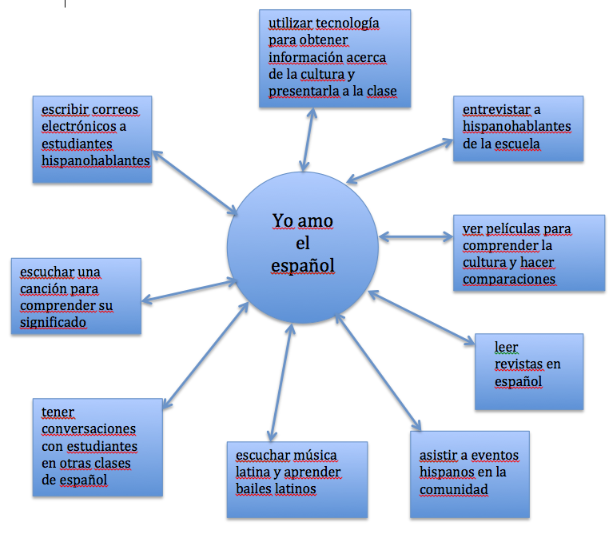 This month on Spanish Classroom
Every year, Americans around the nation get together to celebrate Hispanic Heritage Month from September 15th through October 15th. The contributions Hispanic Americans have made to the United States are endless and inspiring, and they have had a profound and positive impact on our county.
Los sonidos y las letras

Cuando hablamos, pronunciamos sonidos. Los sonidos sirven para distinguir palabras, como por...
2016

2015

2014

2013

2012

2011