Las Cataratas del Iguazú - Resources for your Spanish Classroom
Jul 22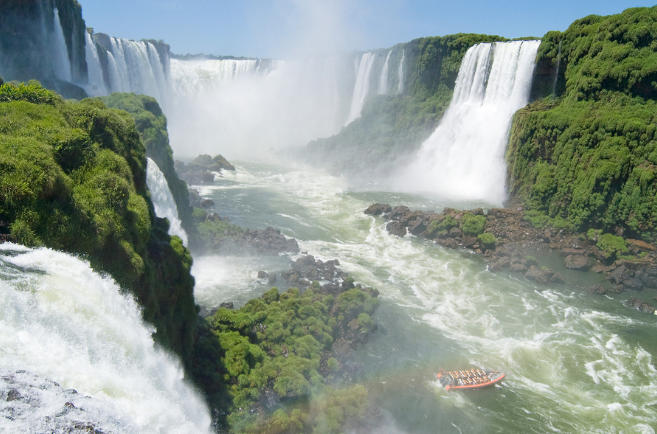 Las Cataratas del Iguazú
Las Cataratas del Iguazú fueron descubiertas por Alvar Núñez Cabeza de Vaca en 1541. El cronista español las describió de esta manera:
"[...] donde da el agua en lo bajo de la tierra tan grande golpe que de muy lejos se oye, y la espuma del agua, como cae con tanta fuerza, sube en lo alto dos lanzas y más [...]"
Iguazú, fue tomado del dilecto guaraní, los primeros habitantes de la región y significa "agua grande", expresión que hace un gran honor a su majestuosidad. Nombradas recientemente por la UNESCO como una de las siete maravillas naturales, las cataratas del Iguazú es uno de los más famosos y deseables sitios turísticos de América del Sur. Localizadas sobre el río Iguazú, entre la fronteriza provincia argentina de Misiones y el estado de Paraná en Brasil, las cataratas son el principal atractivo del Parque Nacional Iguazú.
Este impresionante escenario natural está compuesto por más de 270 saltos de agua, ubicados, la mayoría de ellos [80%] sobre el lado argentino. Para aquellos que aman el turismo ecológico, este viaje al sur puede ser uno de los más memorables ya que los visitantes pueden dar paseos en lancha para apreciar los saltos de agua y luego, pueden ejercitarse dando caminatas por los senderos del parque mientras disfrutan de la flora y fauna del mismo.
Dentro de este paisaje asombroso, la Garganta del Diablo merece una mención especial. La Garganta del Diablo está formada por un grupo de cascadas que se elevan hasta los 80 metros de altura y que culminan en una garganta angosta. Dentro de este grupo de cascadas, el salto de agua más caudaloso es conocido el Salto Unión. La combinación perfecta entre altura y caudal provoca que al precipitarse el agua se formen fumarolas que pueden divisarse a más de siete kilómetros de distancia.
This month on Spanish Classroom
"Books and movies are like apples and oranges. They both are fruit, but taste completely different."
- Stephen King
It's Christmas Time!

By- Angela Padrón When most people today think of Christmas, symbols like trees,...
2017

2016

2015

2014

2013

2012

2011