La fiesta del fútbol- Resources for your Spanish Classroom
Jun 24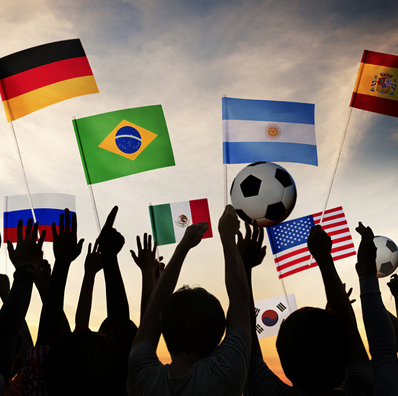 La fiesta del fútbol
Durante este mes y parte de julio, los aficionados al más universal de los deportes están de plácemes. El 18 de junio comenzó en Brasil Copa Mundial de Fútbol 2014, una fiesta esperada por muchos y que tiene lugar cada cuatro años. Este famoso evento deportivo atrae a millones de espectadores que disfrutan de los partidos de fútbol desde cada rincón del mundo a través de los medios de comunicación. Otros aficionados se trasladan hasta el país cede para alentar a la selección de su país y disfrutar de este magno evento. Por casi un mes, los amantes del fútbol se deleitan con los encuentros deportivos en los que treinta y dos naciones tienen un mismo objetivo, conseguir la Copa Mundial. Sin embargo, el fútbol es un deporte que mantiene ocupados a los aficionados todos los meses del año.
Los inicios de este deporte tan popular datan de la segunda mitad del siglo XVII. A partir de este momento, el fútbol sufrió varias transformaciones en la cantidad de jugadores, las reglas a seguir durante los partidos, la duración de los encuentros deportivos, entre otros. No fue hasta el siglo XIX que se establecieron las reglas que están vigentes hoy en día. Este paso hacia la creación del fútbol moderno tuvo lugar gracias a la constitución de la Asociación de Fútbol en el año 1863 en Inglaterra. En la primera mitad del siglo XX, el fútbol ganó numerosos adeptos en los países suramericanos dando paso a la fundación de la Confederación Sudamericana de Fútbol en 1916. Hacia la segunda mitad del siglo, este deporte se consolidó como el deporte más popular en todo el mundo y como consecuencia se fundaron varias instituciones como la Unión de Asociaciones de Fútbol Europeas (UEFA) y la Confederación Asiática de Fútbol. Cada asociación tiene sus propios torneos nacionales e internacionales, algunos a nivel de clubes de fútbol y otros, a nivel de nacional.
Diversos estudios y encuestas realizadas desde el año 2006, arrojan datos sorprendentes: más de doscientas millones de personas están involucradas en los diferentes sectores que sostienen esta industria deportiva. Pero lo más colorido y emocionante de este deporte son los aficionados que siguen a sus jugadores, sus equipos y clubes a cualquier lugar. Desde las tribunas de los estadios, los fanáticos acompañan y alientan a sus jugadores con canciones, carteles, banderas, tambores, silbatos, etc., que representan los colores de sus seleccionados.
No hay dudas que el fútbol es una pasión que mueve multitudes y que hoy, nos hace vibrar a todos con cada jugada que ejecutan los jugadores en la cancha. Vivamos entonces, durante este mes de la Copa Mundial y acompañemos a nuestros equipos nacionales a pesar de la distancia.

This month on Spanish Classroom
Every year, Americans around the nation get together to celebrate Hispanic Heritage Month from September 15th through October 15th. The contributions Hispanic Americans have made to the United States are endless and inspiring, and they have had a profound and positive impact on our county.
2016

2015

2014

2013

2012

2011