La Catrina - Resouces for your Spanish Classroom
Oct 27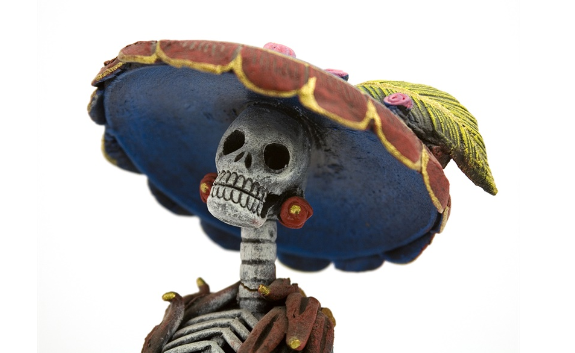 La festividad del Día de los Muertos es una tradición que celebra la identidad mexicana y, por ende, la latinoamericana. Durante estas fechas, hay una imagen que adorna los salones de clases, que aparece en las noticias y por la cual, todos nos sentimos muy orgullosos: La Catrina. Esta interesante figura representa una calavera ataviada con prendas tradicionales y un sombrero enorme sobre su cabeza cadavérica. Pero más allá de su imagen, la Catrina lleva impresa un gran valor simbólico para las culturas centroamericanas.
Creada y dibujada por el gran grabador mexicano por José Guadalupe Posada en 1913, la Catrina fue conocida en sus primeros tiempos como la "Calavera Garbancera". A finales el siglo XIX, en la Ciudad México se le llamaban "garbanceros" a aquellas personas, que negando su origen indígena procuraban comportarse como europeos. Los "garbanceros" trataban de imitar las tradiciones, formas de vestir y comportamientos de los españoles desdeñando su propia cultura. Posada, incómodo con esta actitud hipócrita, decidió crear esta imagen para criticar la falsedad de esos sujetos que se avergonzaban de sus raíces y que trataban de aparentar una falsa identidad.
Con el paso de los años, el famoso muralista mexicano Diego Rivera, quien era un ferviente admirador de la obra de Posada, incluye la imagen de la Calavera Garbancera en su famoso mural "Sueño de una tarde dominical en la Alameda Central" (1947). El mural hace un recorrido por la historia de México e incluye a figuras históricas que cambiaron, en su momento, la historia de la nación. Con mucha osadía, Rivera coloca en el centro de su obra a esta Calavera Garbancera ataviada con vestidos, plumas y llamativo sombrero. Rivera bautizó esta imagen de la Calavera Garbancera como "La Catrina" y es de esa manera como se ha popularizado la imagen. Esta fue también la primera vez en que "La Catrina" fue presentada de cuerpo completo ya que la figura de Posada solo aparecía de busto.
A partir de este momento, "La Catrina" se convirtió en un personaje de la cultura popular mexicana y su imagen encarna la herencia y cultura de toda una nación. Su popularidad ha traspasado fronteras y ha cobrado vida fuera del lienzo. Hoy en día "La Catrina" simboliza el mestizaje de la nación mexicana y es, además, representación de una actitud hacia la muerte.
This month on Spanish Classroom
Every year, Americans around the nation get together to celebrate Hispanic Heritage Month from September 15th through October 15th. The contributions Hispanic Americans have made to the United States are endless and inspiring, and they have had a profound and positive impact on our county.
Frida Kahlo

By Angela Padrón Frida Kahlo is a famous Mexican artist whose work and life is still...
2016

2015

2014

2013

2012

2011