La Alhambra, entre la historia y la belleza arquitectónica - Resources for your Spanish Classroom
Jul 13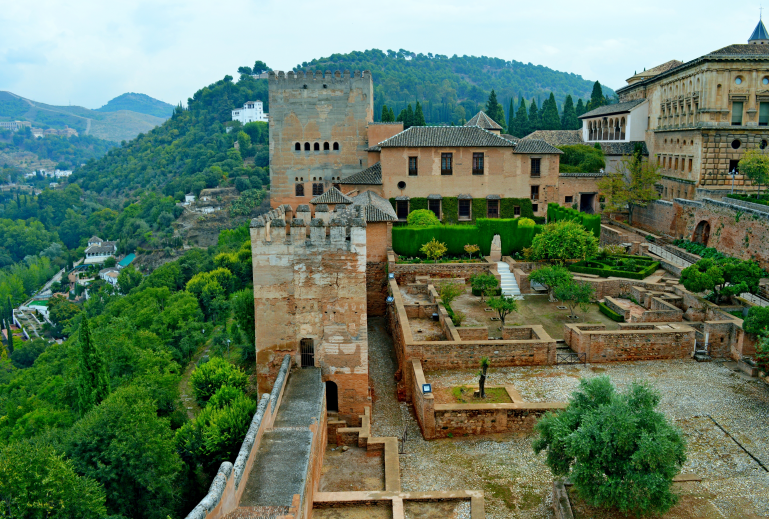 Para regalarnos un poco de historia y para deleitarnos con esta magnífica joya de la arquitectura, nos trasladaremos hasta la Alhambra. Localizado en la ciudad andaluza de Granada, la Alhambra es un conjunto arquitectónico compuesto por palacios fastuosos, maravillosos jardines y una fortaleza. Esta pequeña pero lujosa ciudadela, fue el hogar de sultanes nazaríes y de altos funcionarios de su corte. Alcanzó su máximo esplendor durante la segunda mitad del siglo XIV con el reinado de que custodia la ciudadela en la que vivía el monarca árabe, Muhammad V (1362-1391).
La etimología del sustantivo Alhambra nace el vocablo de origen árabe que significa "fortaleza roja". Los historiadores no pueden determinar el motivo de esta selección ya que el color predominante en los muros es el blanco, pero algunos investigadores aseguran que este complejo adquirió su nombre debido a que en su mayoría fue construido durante la tarde-noche y a la luz de las antorchas, los muros se teñían de rojo.
Con un objetivo deliberado, la Alhambra fue construida en sobre la colina de Sabika. Esta colina es uno de los puntos más elevados de la ciudad y la localización estratégica de la fortaleza se justificaba ante los continuos ataques que asediaban a los pobladores de la región. Aunque algunos investigadores aseguran que su objetivo principal era la defensa de la ciudad, otros estudiosos aseveran que este complejo arquitectónico sirvió como demostración del poderío y de la riqueza del sultán Muhammad V.
Mucho antes de la caída del reino de Granada, el monarca había trasladado su corte a la región granadina y poco a poco fue reorganizando su reino. El reino andalusí comenzó a prosperar gracias a la ubicación geográfica y Granada se convirtió en un próspero centro de intercambio comercial entre los reinos cristianos peninsulares y los musulmanes. En medio del apogeo del reino de Granada fue construida la Alhambra.
Muhammad V fue el soberano del reino nazarí de Granada, un estado musulmán y uno de los últimos remanentes de la conquista árabe a la península ibérica. Granada era la capital del reino nazarí y debido al avance de la Reconquista librada por los reyes cristianos españoles, recibió a un gran número de musulmanes que habían sido despojados de sus territorios en la Península Ibérica. Ante el incremento poblacional, Granada se expandió para darle cabida a los desplazados.
Uno de los atractivos de la Alhambra es su umbilicación y cómo cambió la fisonomía del paisaje granadino. El complejo se adaptó al terreno y es por ello que cuando se divisa a lo lejos, la Alhambra emerge como una construcción integrada a la naturaleza. Pero lo más importante y por lo que la Alhambra se convirtió en un ícono de la arquitectura andalusí, es la decoración de los interiores, la elegancia y la opulencia de sus palacios y el trazado de sus jardines. Todo en la Alhambra es de admirar: sus puertas, sus estatuas, los detalles de en sus techos, los azulejos, etc.
La Alhambra es uno de unos de los atractivos turísticos más visitados por turistas naciones e internalices que viajan hasta la península ibérica. Sus muros resguardan siglos de historia.
This month on Spanish Classroom
Every year, Americans around the nation get together to celebrate Hispanic Heritage Month from September 15th through October 15th. The contributions Hispanic Americans have made to the United States are endless and inspiring, and they have had a profound and positive impact on our county.
2016

2015

2014

2013

2012

2011