Isla de Pascua, Chile - Resources for your Spanish Classroom
Jul 11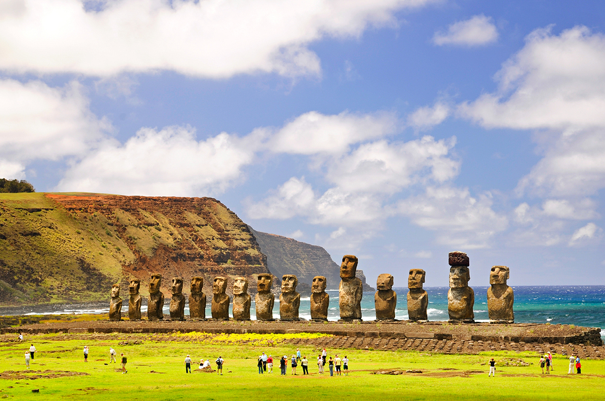 La Isla de Pascua en Chile
En nuestra serie, Las maravillas naturales de América Latina, visitamos el desierto de sal de Uyuni en Bolivia y vistamos el glaciar Perito Moreno en Santa Cruz, Argentina. Este mes los llevaremos a visitar otros lugares que impresionan a los viajeros por su belleza natural. Hoy visitaremos la isla de Pascua, ubicada en el extremo sur del continente en el océano Pacífico. La isla de Pascua es la isla más grande que compone el grupo de la Polinesia pero pertenece al territorio continental de Chile. A pesar de poseer una belleza natural incuestionable, la isla de Pascua es uno de los destinos turísticos favoritos del mundo entero debido al misterio y la permanente incógnita que envuelven a un grupo de estatuas gigantescas localizadas en el Parque Nacional Rapa Nui, declarado patrimonio de la humanidad por la Unesco en 1995.
Pertenecientes a una cultura ancestral, los moáis forman parte de un conjunto de más de 900 estatuas labradas en piedra volcánica por los Rapa Nui antiguos. La mayoría de las estatuas tienen una altura de 4 metros con la excepción del moái Paro que mide 10 metros de altura y pesa alrededor de 85 toneladas. La mayoría de las figuras muestran una cabeza bien delineada, otras, representan un torso y un rostro humano. Aunque han pasado varios siglos, todavía quedan muchas interrogantes acerca del origen y del significado de estas enormes cabezas de piedra volcánica, algunos avezados investigadores se inclinan a pensar que las estatuas no son más que las representaciones de los difuntos, de los antepasados de los Rapa Nui. Según los estudiosos de esta cultura, los moáis liberaban toda la energía de los difuntos para, de esa forma, proteger a sus descendientes. De la misma forma, los investigadores aseguran que la posición de las estatuas, sobre plataformas ceremoniales y con sus rostros mirando hacia el interior de la isla, representa el rostro de un ancestro que vigila y guarda a su comunidad. Esta hipótesis cobró más fuerza cuando se entraron en las cavidades oculares fragmentos de coral rojo o piedra volcánica roja, otorgándoles a los mismo un perfil más humano.
No hay ninguna duda que la isla de Pascua es uno de los lugares más mágicos y enigmáticos de América del Sur. En los últimos años algunos arqueólogos han descubierto que varias de estas figuras en realidad eran más altas, es decir, más de un tercio del moái estaba sepultado bajo tierra. Estos hallazgos trajeron como resultado una explosión de teorías y especulaciones acerca de la influencia del clima y los cambios atmosféricos sobre la isla y cómo estos últimos influyeron en las comunidades y la cultura Rapa Nui. Sin embargo, ninguna de esas teorías han sido corroboradas y los científicos continúan explorando la isla.
This month on Spanish Classroom
Every year, Americans around the nation get together to celebrate Hispanic Heritage Month from September 15th through October 15th. The contributions Hispanic Americans have made to the United States are endless and inspiring, and they have had a profound and positive impact on our county.
Los sonidos y las letras

Cuando hablamos, pronunciamos sonidos. Los sonidos sirven para distinguir palabras, como por...
2016

2015

2014

2013

2012

2011