Interesante artículo acerca del español en el mundo - Resources for your Spanish Classroom
Sep 01
Publicado el 23 agosto, 2014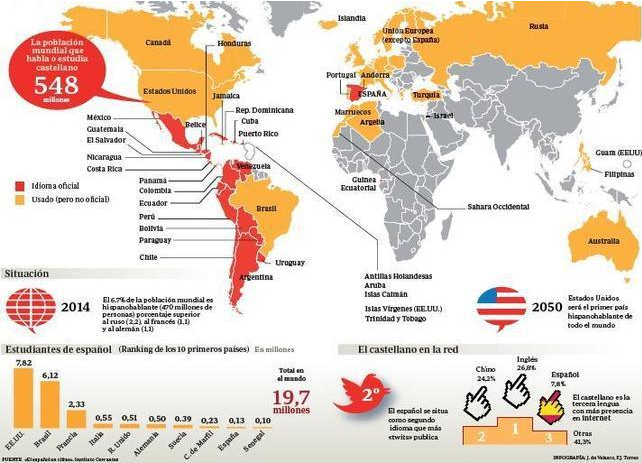 Luís Ayllón. ABC.
El interés por el español en el mundo no para de aumentar, lo que muestra la vitalidad de una lengua que ya hablan o estudian en todo el planeta unos 548 millones de personas, según datos del Instituto Cervantes en 2014. La cifra incluye a quienes lo dominan plenamente (unos 470 millones) lo hablan con alguna limitación (más de 58 millones) o están en proceso de aprendizaje (cerca de 20 millones).
Ese aumento es bastante notorio en algunas zonas, como Estados Unidos, donde cada vez la población de origen hispano es mayor, pero también en otras, donde el crecimiento experimentado en la última década ha sido espectacular. Así sucede en Brasil, donde 30 millones de personas tienen el español como segunda lengua, después del portugués. No es ajeno a ese crecimiento el hecho de que los intercambios comerciales del gigante brasileño con sus vecinos de habla hispana y con España mantienen un buen ritmo de crecimiento. Algunas estimaciones indican que el uso del español hizo favorece las relaciones comerciales en un 290%, mientras que el inglés lo hace en un 240%.
Futuro prometedor
No resulta, por tanto, sorprendente que en los 86 centros con los que cuenta el Instituto Cervantes en 42 países, más otras 170 unidades acreditadas en distintos puntos del mundo, continúe aumentando el número de alumnos y que otro tanto suceda en las universidades que imparten enseñanzas de español. Hay unos 120 lectorados de español en distintos centros universitarios del mundo. Como consecuencia de ello, el número de estudiantes de español en el mundo está muy próximo a los 20 millones, de los cuales, casi ocho se encuentran en Estados Unidos, algo más de seis en Brasil y por encima de los dos millones en Francia.
Click here to read more.
This month on Spanish Classroom
"Books and movies are like apples and oranges. They both are fruit, but taste completely different."
- Stephen King
It's Christmas Time!

By- Angela Padrón When most people today think of Christmas, symbols like trees,...
2017

2016

2015

2014

2013

2012

2011