Learn How "Lecturas gráficas DE IMPACTO" Connect to the Classroom Literacy Program - Resources for your Spanish Classroom
Oct 26
Lecturas gráficas DE IMPACTO is a series of graphic readers that can be introduced into the classroom in a variety of ways, connecting to different aspects of the curriculum and emphasizing many skills.
Reading Aloud to Students
Reading aloud to young learners strengthens their reading skills and contributes to their enjoyment of literature. As young learners listen and respond to graphic readers, they predict, make inferences, hypothesize, identify with the characters, respond critically and creatively, and develop a sense of story. Books read aloud can expose students to a higher reading level and a greater range of literacy.
Shared Reading
Through shared reading, students learn sight words and sound-letter relationships when they are pointed out or discussed in a group setting. The nature of a graphic reader allows students to make strong text-to-image connections. By sharing graphic readers repeatedly through speaking or chanting in unison, students learn to make sense of the words, letters, and pictures.
Small Group Instruction
The carefully leveled text and features of graphic readers offer opportunities for instructing small groups of learners with similar levels of reading competence. Young readers are able to see themselves as successful readers when they receive instructed reading guidance that supports their abilities to process text and includes only a few challenges involving words, context, and content.
Independent Reading
By allowing students to choose what they want to read, independent reading enhances reading abilities and encourages a positive attitude toward books. Graphic readers are often popular choices due to their visual appeal and ease of access. Independent reading increases the time students spend reading, and offers opportunities for learning and practicing reading strategies while monitoring their own reading.
Guided Reading
Graphic readers are ideal tools to support an effective guided reading program, covering a range of curriculum areas, including science, math, social studies, and the arts. Establishing well-organized routines helps students to know what to do while the teacher is working with another small group of students.
Start reading now!
Find a sample and the corresponding Small Group Instruction lesson plan for the K-2 classroom: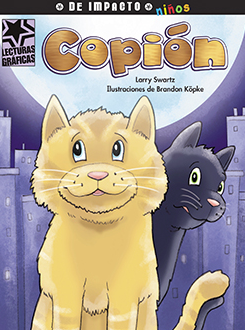 Click here to read Copión.
To download lesson plan click here.
For more information visit www.santillanausa.com

Or contact your Educational Sales Representative here.

This month on Spanish Classroom
Every year, Americans around the nation get together to celebrate Hispanic Heritage Month from September 15th through October 15th. The contributions Hispanic Americans have made to the United States are endless and inspiring, and they have had a profound and positive impact on our county.
Frida Kahlo

By Angela Padrón Frida Kahlo is a famous Mexican artist whose work and life is still...
2016

2015

2014

2013

2012

2011