HISPANOTICIA: Los Maleku y su apuesta por el turismo - Resources for your Spanish Classroom
Dec 15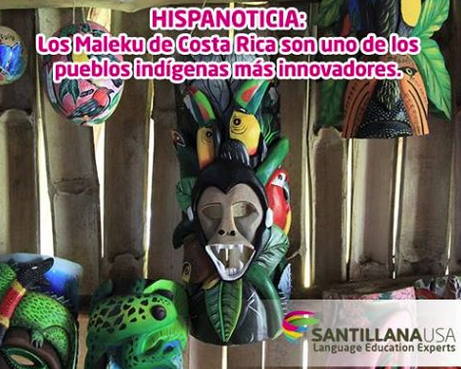 Los Maleku son uno de los pueblos indígenas más pequeños de Costa Rica: tan sólo 650 personas. Sin embargo, también son uno de los más innovadores: han apostado por el turismo para generar ingresos y conservar sus costumbres, tradiciones y creencias. Gracias a la donación de un hotel, los Maleku han construido dos ranchos con actividades variadas para turistas. Su objetivo es construir más para que su comunidad regrese a vivir a las tierras que siglos atrás fueron su hogar.
Actividades para HS Nivel 3

- ¿Qué actividad realizan los maleku en sus ranchos tradicionales para turistas?

- ¿Qué relación tienen los maleku con el volcán Arenal y por qué?

- ¿Qué es un "palos de lluvia"? Descríbelo.
Vocabulario: subsistir, rancho, ingresos, biodiversidad, volcán, tradición, templo, indígena
This month on Spanish Classroom
April is National Poetry Month! During this time, booksellers, librarians, parents, teachers, and students read, write and analyze poems while recognizing the literary accomplishments of many poets, both past and present.
2017

2016

2015

2014

2013

2012

2011