HISPANOTICIA: Los Maleku y su apuesta por el turismo - Resources for your Spanish Classroom
Dec 15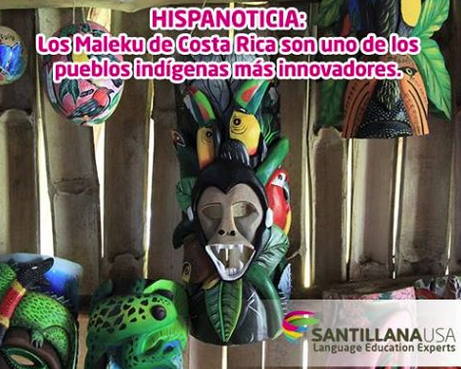 Los Maleku son uno de los pueblos indígenas más pequeños de Costa Rica: tan sólo 650 personas. Sin embargo, también son uno de los más innovadores: han apostado por el turismo para generar ingresos y conservar sus costumbres, tradiciones y creencias. Gracias a la donación de un hotel, los Maleku han construido dos ranchos con actividades variadas para turistas. Su objetivo es construir más para que su comunidad regrese a vivir a las tierras que siglos atrás fueron su hogar.
Actividades para HS Nivel 3

- ¿Qué actividad realizan los maleku en sus ranchos tradicionales para turistas?

- ¿Qué relación tienen los maleku con el volcán Arenal y por qué?

- ¿Qué es un "palos de lluvia"? Descríbelo.
Vocabulario: subsistir, rancho, ingresos, biodiversidad, volcán, tradición, templo, indígena
This month on Spanish Classroom
"Books and movies are like apples and oranges. They both are fruit, but taste completely different."
- Stephen King
2017

2016

2015

2014

2013

2012

2011