Expanding the High School Spanish Program - Resources for your Spanish Classroom
Mar 02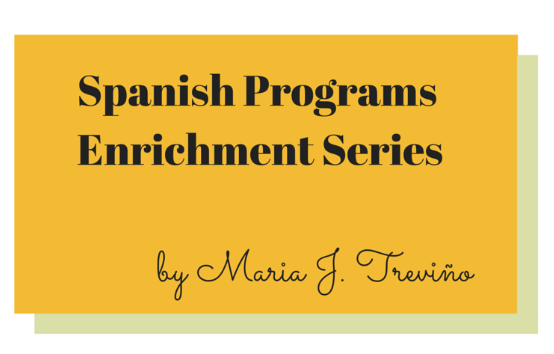 In the previous post, I referred to zero hour classes and distance learning courses as a way to offer Spanish in schools where no Spanish classes are offered. These two methods can also be used to expand the high school Spanish program. Any level of Spanish can be offered during zero hour. Most distance learning providers offer Spanish 1, 2, and/or 3, but a few providers offer Advanced Placement Spanish courses also. What are some other ways to expand your Spanish program?
One way is to evaluate the student population of the district high schools. If, for example, a school district has some schools with a predominant Spanish-speaking population, Spanish for Spanish-speakers courses could be offered on these campuses in order to expand its Spanish course offerings. If a high school has a Gifted and Talented program (GT), students could be screened to enroll in Spanish honors or Spanish Pre-AP courses. Keep in mind that a student does not have to be in a GT Program in order to be screened for honors and Pre-AP classes. Using these two examples, a school could possibly offer a Spanish 1SSSH while another one could offer Spanish 1 Pre-AP or a school could even offer both courses on the same campus.
An important step to expanding the high school Spanish program is to evaluate the incoming middle school students. Are they entering high school with Spanish courses under their belt? Did the students come from dual language programs and/or middle school Spanish programs? If no, the students enter the appropriate Spanish 1 course in high school. If the incoming middle students have credits in Spanish, they enter the subsequent Spanish course in high school. If a middle school student finished Spanish 2 in middle school, then he is ready to enroll in Spanish 3 in high school. Counselors and Spanish teachers work together to determine the possibility of adding/developing honors and Pre-AP courses for incoming students.
In addition, if you have middle school students who took Spanish 4AP in 8th grade, these students are eligible to take Spanish 5AP in high school. Due to the difficulty of the Spanish 5 AP Literature course, some districts choose to offer the first half of Spanish 5 AP in 9th grade and the second half in 10th grade. The students receive ½ credit for each year. The students may choose not to continue with Spanish 5 AP but may want to take a Spanish 5 SSS course that could be followed by Spanish 6 and 7. There are several combinations that the school can consider. Evaluating the Spanish skills of the incoming middle school students will promote development of upper-level and higher-level Spanish courses in high school.
If you have Spanish-speaking students entering high school with no previous Spanish courses, the district may provide placement testing to place the students in the appropriate course. Spanish-speakers may place as high as Spanish 3 or 4. Native speakers from Spanish-speaking countries may even go straight to Spanish 4 or 4AP. By offering the placement testing, a school can expand its upper level Spanish courses.
Finally, a high school may expand its Spanish program by offering specialized classes such as Spanish for Medical Purposes or Spanish for Business Purposes. These courses can be offered in any school setting. These courses may be developed in several ways whether intertwined with regular Spanish courses or as stand alone courses such as Spanish for Medical Purpose 1, SMP 2, etc.
María J. Fierro-Treviño
Instructional Specialist, Northside Independent School District, San Antonio, TX. (Retired)
Director for Languages other than English, Texas Education Agency (Retired)
This month on Spanish Classroom
"Books and movies are like apples and oranges. They both are fruit, but taste completely different."
- Stephen King
It's Christmas Time!

By- Angela Padrón When most people today think of Christmas, symbols like trees,...
2017

2016

2015

2014

2013

2012

2011