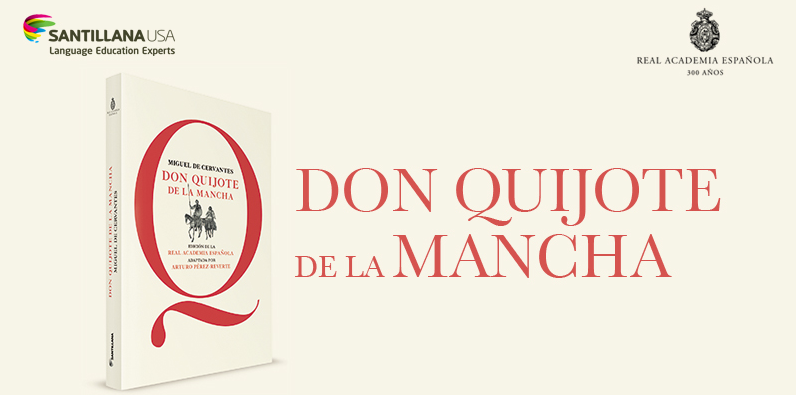 Don Quijote de la Mancha




(Don Quixote)


Real Academia Española Edition / Adapted by Arturo Pérez-Reverte


Miguel de Cervantes

This first school-oriented edition of Don Quixote ever published by the Real Academia Española (RAE) offers Cervantes's original text brilliantly abridged by renowned author, journalist, and scholar Arturo Pérez-Reverte. This new edition gives readers of all ages and reading proficiency levels easy access to the greatest classic in Spanish literature.

Enjoy the essence of Don Quixote thanks to the rigorous and compelling adaptation by the Real Academia Española and Arturo Pérez-Reverte.

Eliminates parallel stories, and combines and renumbers various chapters to facilitate uninterrupted reading.
Maintains Cervantes's original text without distorting or diluting it.
Prologues by Arturo Pérez-Reverte and Darío Villanueva (Secretary of the RAE).
Contains illustrations from the original 1780 edition, and an unpublished one by Francisco de Goya.
Commemorative edition for the RAE's tricentennial.
WE HAVE A QUIXOTE FOR EVERYONE!
Don Quijote para siempre
Don Quixote Forever
Georgina Lázaro León

Don Quijote (Edición adaptada y anotada)
Don Quixote (Adapted and Annotated Edition)
Miguel de Cervantes

Don Quijote (Selección anotada)
Don Quixote (Annotated Anthology)
Miguel de Cervantes

Don Quijote de la Mancha I (Libro + CD) / Edición adaptada
Don Quixote, Part I (Book + CD) / Adapted Edition
Miguel de Cervantes

Don Quijote de la Mancha II (Libro + CD) / Edición adaptada
Don Quixote, Part II (Book + CD) / Adapted Edition
Miguel de Cervantes