El rock de la momia y otros versos diversos - Resources for your Spanish Classroom
Oct 27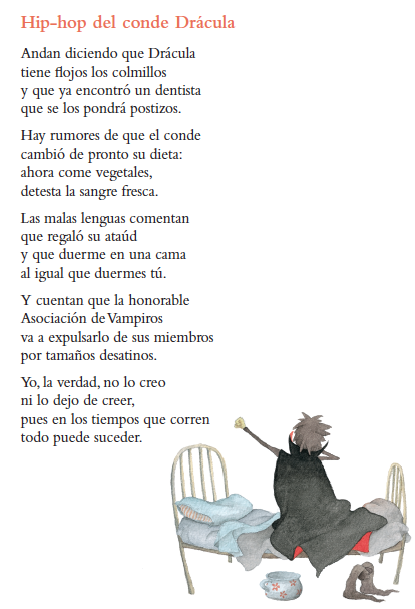 A los inquietos lectores que dicen estar en la edad de "cero poemas", El rock de la momia les cambiará su idea del lenguaje poético como un asunto demasiado serio y los hará morir de la risa. El escritor cubano Antonio Orlando Rodríguez despliega todo su talento, su sensibilidad y su humor para crear una poesía moderna a partir de antiguas estrofas como el lay, el zéjel o el ovillejo, que usaron los poetas españoles de tiempos de Don Quijote.
Así regresan estos versos pegajosos y musicales, mezclados con Frankenstein, Drácula, La Mano Asesina y muchos otros monstruos que pueblan nuestras pesadillas. Y junto a esos poemas, los lectores encontrarán versos diversos para nombrar sus emociones y descubrir que la buena poesía jamás pasa de moda.



Acerca del autor

Antonio Orlando Rodríguez nació en Cuba; ha residido en Costa Rica y Colombia, y actualmente vive en Estados Unidos. Ha escrito numerosos libros de narrativa y poesía infantil. Además es periodista, guionista e investigador literario, y ha participado en proyectos de promoción de la lectura en varios países. Como parte de esa labor, creó, junto a Sergio Andricaín, la Fundación Cuatrogatos, especializada en literatura infantil. También escribe para adultos; su novela Chiquita ganó el premio

Alfaguara en 2008.
For more information visit www.santillanausa.com

Or contact your Educational Sales Representative here.

This month on Spanish Classroom
"Books and movies are like apples and oranges. They both are fruit, but taste completely different."
- Stephen King
It's Christmas Time!

By- Angela Padrón When most people today think of Christmas, symbols like trees,...
2017

2016

2015

2014

2013

2012

2011