El poder de la tecnología en la lectura en español - Resources for your Spanish Classroom
Jun 18
NOTA DE PRENSA - Junio 18, 2015
El pasado jueves 11 de junio, el Consulado de España en Washington DC con el patrocinio de Santillana USA presentó "Harnessing the Power of Technology to promote Reading in Spanish" escrito por Guillermo Fesser, autor del libro "Ruedas y enigma del campamento MT".
El Cónsul D. Enrique Sardá Valls inauguró el encuentro agradeciendo a Santillana USA su colaboración y al escritor y periodista Guillermo Fesser su presencia. Entre los asistentes, destacaron las autoridades educativas de los departamentos de World Languages, profesores de español, profesores visitantes y padres. Asimismo, se contó con la colaboración de Tortas Inés Rosales.
El acontecimiento se centró en las diferentes estrategias pedagógicas existentes para fomentar la incorporación de la tecnología en el aprendizaje, tanto dentro como fuera del aula, para aquellos cursando la educación primaria o iniciando la secundaria.
A través de la presentación y empleando su libro "Ruedas y enigma del campamento MT", Guillermo Fesser señaló la multitud de estrategias pedagógicas que ofrece la incorporación de los recursos tecnológicos en la docencia. Por lo tanto, las TIC se erigen como un recurso didáctico que permite no sólo originar, sino también fomentar el hábito lector entre los más jóvenes.
Los personajes que aparecen en la obra de Fesser combinados con "Multi-Level Activities" proveen el incentivo pedagógico necesario dentro del aula para abordar un mayor abanico de temas como la convivencia o la integración y, a su vez, tratar valores y sentimientos como la empatía o la normalización de las diferencias socio-culturales.
Tras la presentación, la Consejera de Educación Dña. María José Fabre González clausuró el encuentro señalando como el español está adquiriendo un papel cada vez más importante en la escena internacional y como las TIC constituyen una herramienta atractiva y motivadora. Posteriormente, el ponente dialogó con aquellos asistentes al evento que así lo desearon y tuvo lugar la firma de libros, dando así por finalizado el encuentro.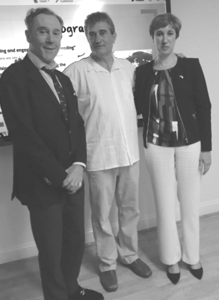 This month on Spanish Classroom
Este mes celebramos el trabajo de los ilustradores. Las ilustraciones son muy valiosas en el desarrollo del lenguaje. El uso de ilustraciones es perfecto para desarrollar oraciones sencillas o escribir una descripción detallada dependiendo del nivel de competencia del estudiante.
Condorito

Si de tradiciones se trata, es necesario hablar de la historieta que desde agosto de 1949...
2017

2016

2015

2014

2013

2012

2011