El parque Nacional Canaima - Resources for your Spanish Classroom
Jul 25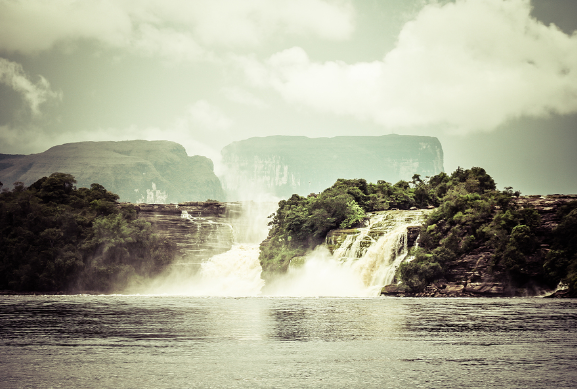 El parque Nacional Canaima
Si tuviéramos que seleccionar al azar un lugar en nuestra América del Sur que mezclara mágicamente la cultura indígena, los mitos y la belleza natural, ese lugar sin dudas sería el Parque Nacional Canaima. Si recordáramos la novela Canaima del escritor venezolano Rómulo Gallegos, sería imposible imaginarnos la magia del paisaje que nos ha obsequiado la naturaleza.
Situado en el Estado Bolívar en Venezuela, el Parque Nacional Canaima abarca un área de las de treinta mil kilómetros cuadros, extendiéndose hasta la frontera de Brasil y Guyana. Es considerado el sexto parque nacional más grade del mundo y por eso la UNESCO lo declaró Patrimonio de la Humanidad en el año 1994. Este parque es el hogar del pueblo indígena pemón, los cuales han establecido una gran conexión espiritual con los tepuyes. Alejado de la civilización, como lo describiera Gallegos en su novela, el medio de transporte más eficaz para recorrer el parque son las canoas ya que el sistema fluvial del mismo, conduce a los visitantes hasta los sitios más recónditos e inaccesibles de esta selva tropical.
Uno de los accidentes geográficos por el cual se distingue este parque son los tepuyes. Alrededor del 65% de la reserva natural de Canaima está cubierta por estas antiguas mesetas de rocas areniscas cuyas paredes verticales y cimas planas forman un paisaje espectacular. Algunos científicos aseguran que los tepuyes tienen una edad geológica que fluctúa entre 1500 y 2000 millones de años, por tanto es una formaciones geológicas más antiguas del planeta. Otros investigadores se aventuran a afirmar que estas elevaciones datan del período en que América y África formaban un sólo continente. Los tepuyes más conocidos son Monte Roraima y el Auyantepui, el tepuy más grande, con 2535 metros de altura y una superficie de 700 kilómetros cuadrados. Desde la cúspide del Auyantepui se precipita la caída de agua más alta del mundo, el Salto Ángel o Kerepakupai Vená.
El Salto Ángel, que en dialecto pemón significa "salto del lugar más profundo", cuenta con una altitud de 1.002 metros. El salto adquirió su nombre en honor al aviador estadounidense Jimmie Angel, quien tras sobrevolar la cima del Auyantepui en el año 1937, descubrió la localización exacta de la hermosísima caída de agua.
This month on Spanish Classroom
Every year, Americans around the nation get together to celebrate Hispanic Heritage Month from September 15th through October 15th. The contributions Hispanic Americans have made to the United States are endless and inspiring, and they have had a profound and positive impact on our county.
Los sonidos y las letras

Cuando hablamos, pronunciamos sonidos. Los sonidos sirven para distinguir palabras, como por...
2016

2015

2014

2013

2012

2011