El esplendor del modernismo: José Martí - Resources for your Spanish Classroom
Feb 19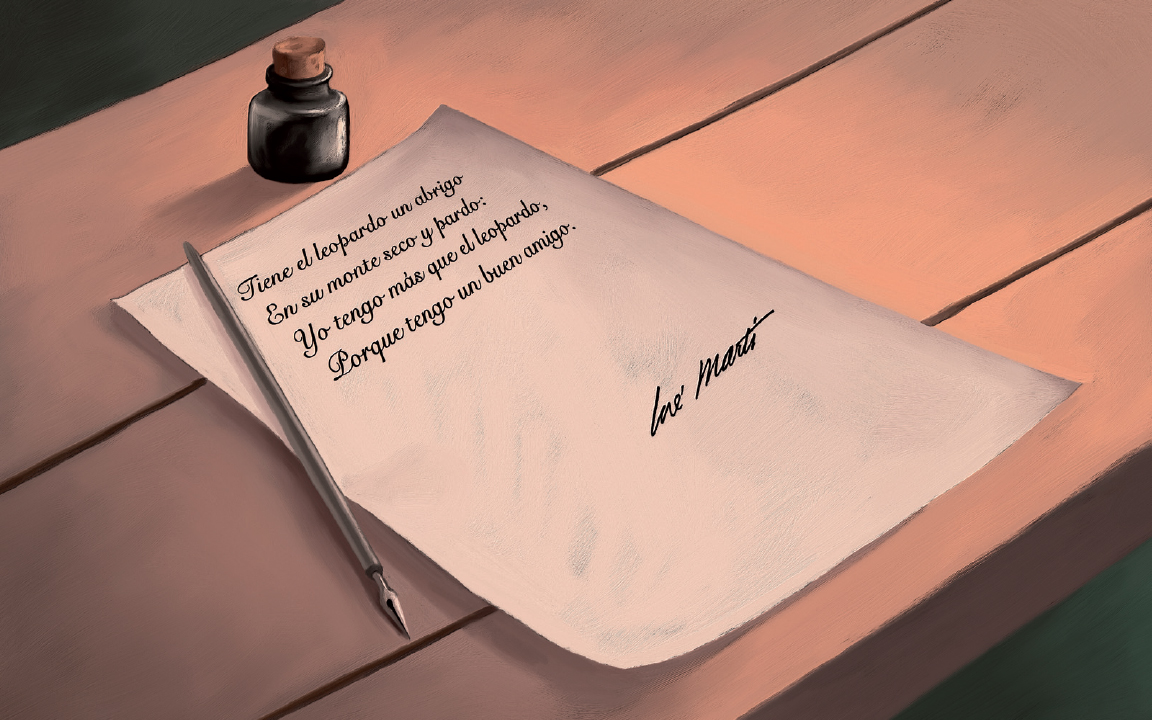 By Evelyn Silva
El mes anterior celebramos el natalicio de Rubén Darío, el precursor del modernismo. Este mes celebraremos a otro autor cuya obra modernista también dejó una huella profunda en la literatura y en el pensamiento latinoamericano, José Martí.
Martí nació el 28 de enero de 1953 en La Habana, Cuba. Desde muy temprana mostró un gran interés por la situación colonial de la isla y este pensamiento político le trajo muchos problemas con las autoridades españolas. Su frió en carne propia los castigos del presidio político y fue desterrado de Cuba. Por esa razón vivió en España y viajó por Europa, impregnándose de las corrientes literarias parnasianas y simbolistas, a partir de las cuales fundaría su propio estilo modernista. A diferencia de la obra temprana de Darío, para Martí el arte siempre sería visto como un vehículo, como un instrumento en el cual el escritor se apoyaría para expresar sus emociones y sentimientos humanos, y a su vez, mejorar las condiciones la sociedad.
El modernismo martiano rechaza profundamente todos los modelos artísticos españoles y es por ello que en sus poemas se puede apreciar ese sentimiento de liberación y de reafirmación latinoamericana. Su arte es un arte comprometido, con matices políticos y que toca las problemáticas sociales de su tiempo:
Oculto en mi pecho bravo
La pena que me lo hiere:
El hijo de un pueblo esclavo
Vive por él, calla y muere.
(Versos sencillos, 1891)
No se evade en paisajes exóticos ni fija su mirada en estatuas de mármol hieráticas sino que regresa a su paisaje cubano, buscando las palmas y sus montes verdes:
Yo soy un hombre sincero
De donde crece la palma,
Y antes de morirme quiero
Echar mis versos del alma.
Yo vengo de todas partes,
Y hacia todas partes voy:
Arte soy entre las artes,
En los montes, monte soy.
(Versos sencillos, 1891)
Una de las características más importantes de la obra martiana es su profundo sentimiento antiimperialista. Vivió en Estados Unidos un período de tiempo prolongado y siempre vio con gran preocupación la influencia norteamericana en América Latina. Por eso, en sus versos, en sus discursos y en sus ensayos literarios manifestó esta inquietud.
Yo he visto al águila herida
Volar al azul sereno,
Y morir en su guarida
La víbora del veneno.
(Versos sencillos, 1891)
El modernismo de Martí va más allá de lo estético y se enfoca en la ética intelectual y comprometida. Su poesía, como bien lo expresan sus versos, es original y reflexiva, sencilla pero con un mensaje poderoso, melódica y suave pero lleva de colorido y fuerza :
Si ves un monte de espumas
Es mi verso lo que ves:
Mi verso es un monte, y es
Un abanico de plumas.
Mi verso es como un puñal
Que por el puño echa flor:
Mi verso es un surtidor
Que da un agua de coral.
Mi verso es de un verde claro
Y de un carmín encendido:
Mi verso es un ciervo herido
Que busca en el monte amparo.
Mi verso al valiente agrada:
Mi verso, breve y sincero,
Es del vigor del acero
Con que se funde la espada.
(Versos sencillos, 1891)
Conoce más sobre la vida de este gran autor en:



Conoce a José Martí 


(Get to Know Jose Marti)


Antonio Orlando Rodríguez

José Martí was barely 16 years old when he began to fight for the independence of his homeland through his writing. At 17 he was declared an enemy of Spain and sentenced to six years of prison and hard labor. But that did not stop him. Martí dedicated his life to defending Cuba's right to independence. Today he is remembered and honored as a man of integrity—brilliant and courageous—a lover of freedom and peace. Would you like to get to know Martí? Open this book and start reading!
For more information visit www.santillanausa.com

Or contact your Educational Sales Representative here.

This month on Spanish Classroom
Every year, Americans around the nation get together to celebrate Hispanic Heritage Month from September 15th through October 15th. The contributions Hispanic Americans have made to the United States are endless and inspiring, and they have had a profound and positive impact on our county.
2016

2015

2014

2013

2012

2011