Do you know about the Garifunas? - Resources for your Spanish Classroom
Sep 30
Español Santillana High School Level 2 Activity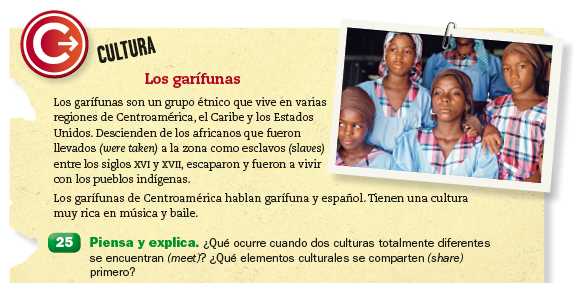 The Garifunas are descendants of West African, Central African, Island Carib, and Arawak people. Today the Garifunas live primarily in Central America along the Caribbean Coast in Belize, Guatemala, Nicaragua, and Honduras, including the mainland, and on the island of Roatán. In the United States, they live particularly in Los Angeles, Miami, New York, and other major cities.
You may watch this video with your class, which explains the difficulty they have in classifying their race/ethnicity because their culture is already inherently a mix of a variety of ethnicities.
Then, have the class work on the activity from Español Santillana High School Level 2, and have them present their ideas to the class using concrete examples from history and the present day.
Enjoy the activity and send us your comments!


This month on Spanish Classroom
Every year, Americans around the nation get together to celebrate Hispanic Heritage Month from September 15th through October 15th. The contributions Hispanic Americans have made to the United States are endless and inspiring, and they have had a profound and positive impact on our county.
2016

2015

2014

2013

2012

2011