División silábica - Resources for your Spanish Classroom
May 20
By Evelyn Silva
En español, para dividir una palabra al final del reglón, hay que tener en cuenta si la articulación entre las vocales que conforman un diptongo o triptongo o si en forman un hiato.
Las vocales en español pueden ser abiertas: a / e / o (a veces suelo llamarlas vocales fuertes) o pueden ser cerradas: i / u (a estas las llamo vocales débiles). El diptongo se forma cuando en una sílaba una vocal abierta (a / e / o) se combina con una vocal cerrada (i / u) átona. También encontramos un diptongo en sílabas que combinan dos vocales cerradas (o débiles) débiles átonas. Esta unión es invisible y ambas vocales conforman una sílaba que no se puede separar al final del renglón. Cuando aparece una -h intercalada entre las dos vocales, esta no influye en la formación del diptongo: ahi-ja-do
Las diferentes combinaciones pueden ser:
-

a

i (

a

i-re)
-

e

i (p

e

ine)
-

o

i (b

o

i-na)
i

u

(ci

u

-dad)
-i

a

(pi

a

-no)
-i

e

(a-bi

e

r-to)
-i

o

(can-ci

ó

n)
-

u

i (b

u

i-tre)
-

a

u (

a

u-to)
-

e

u (

e

u-ro-pe-o)
-

o

u (s

o

u-ve-nir)

-u

a

(cu

a

-dro)
-u

e

(cu

e

n-to)
-u

o

(mons-tru

o

)
Otra regla que tenemos que tener en cuenta para dividir la palabra en sílabas es la unión de tres vocales que conforman un triptongo. El triptongo se forma con la combinación de dos vocales cerradas (débiles) unidas por una vocal cerrada (fuerte). Es decir, la vocal del centro siempre tiene que ser una vocal cerrada.
Muchas palabras que presentan triptongos terminan en -y. La -y en este caso funciona como una vocal representando el sonido (fonético) de la -i. De la misma manera, muchos de los triptongos se forman con la conjugación de los verbos en segunda persona plural del pronombre personal vosotros. Las posibles combinaciones son: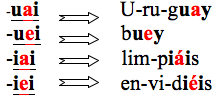 ¿Pero qué sucede cuando se combinan dos vocales abiertas en la misma sílaba?
Cuando dos vocales abiertas aparecen en la misma sílaba se forma un hiato. Esta sílaba sí puede ser dividida al final del reglón (Ej.: po-e-ta, te-a-tro, ca-er). Igualmente, si se combina una vocal abierta con una vocal cerrada tónica también se forma un hiato. Algunos ejemplos: ba-úl; ra-íz; re-ír, entre otros.

This month on Spanish Classroom
Every year, Americans around the nation get together to celebrate Hispanic Heritage Month from September 15th through October 15th. The contributions Hispanic Americans have made to the United States are endless and inspiring, and they have had a profound and positive impact on our county.
Los sonidos y las letras

Cuando hablamos, pronunciamos sonidos. Los sonidos sirven para distinguir palabras, como por...
2016

2015

2014

2013

2012

2011