Descubriendo las maravillas naturales de América del Sur - Resources for your Spanish Classroom
Jun 12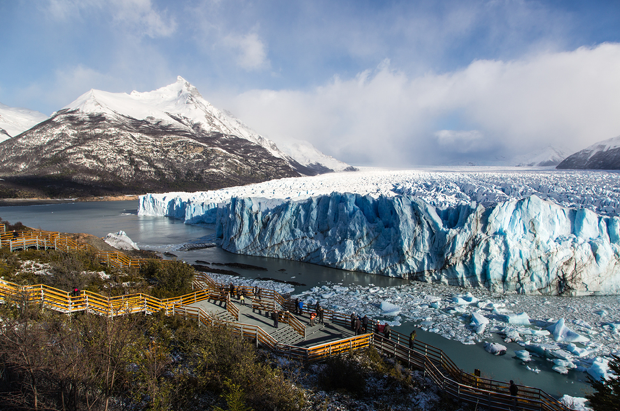 El glaciar Perito Moreno
Seguimos en nuestras excursiones por el sur del continente americano y hoy llegaremos hasta el glaciar Perito Moreno. Este majestuoso glaciar forma parte del grupo de 365 glaciares que se encuentran en el Parque Nacional Los Glaciares ubicado en la provincia de Santa Cruz, Argentina, justo frente al estrecho de Magallanes.
El glaciar Perito Moreno adquirió su nombre en honor al científico argentino Francisco Moreno. Un glaciar no es más que una inmensa masa de hielo flotante que se divisa desde la superficie del agua. El glaciar Perito Moreno es muy famoso debido a sus dimensiones ya que cuenta con 32 kilómetros de longitud , 265 Km cuadrados de masa de hielo y 2.950 metros de altura por encima del nivel del agua. Este glaciar se puede ver desde tierra y es muy famoso debido a que las rupturas y desprendimientos de bloques son un espectáculo maravilloso que impresiona a los amates de la naturaleza.
Los constantes movimientos del glaciar hacen que el mismo avance sobre el Lago Argentino, cerrando el Canal de los Témpanos y obstaculizando el acceso a la península de Magallanes. Debido al bloqueo del glaciar, las aguas provenientes del "Brazo Rico" que alimentan al Lago Argentino aumentan hasta una altura de 30 metros. La presión que estas aguas ejercen contra el glaciar provocan la ruptura del hielo y la aparición de un túnel. El glaciar se convierte en una compuerta natural, un corredor con una bóveda por la cual las aguas del Rico vuelven a fluir hacia el Lago Argentino. Con el tiempo, la erosión del fluir del agua por la bóveda hacen que paredes de la misma cedan. El derrumbe de este pasaje natural se convierte en uno de los espectáculos más imponentes de la naturaleza.
This month on Spanish Classroom
Every year, Americans around the nation get together to celebrate Hispanic Heritage Month from September 15th through October 15th. The contributions Hispanic Americans have made to the United States are endless and inspiring, and they have had a profound and positive impact on our county.
Los sonidos y las letras

Cuando hablamos, pronunciamos sonidos. Los sonidos sirven para distinguir palabras, como por...
2016

2015

2014

2013

2012

2011