Descubriendo las maravillas naturales de América del Sur - Resources for your Spanish Classroom
Jun 06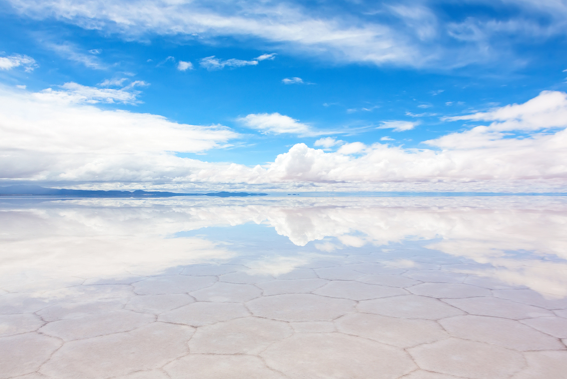 Comenzamos nuestro recorrido por el Salar de Uyuni en Bolivia
Si de vacaciones y viajes se trata, América Latina tiene sitios increíbles que son un regalo de la naturaleza. Durante este mes de junio nos dedicaremos a recorrer algunos de los lugares más hermosos de América del Sur. Dotados de una majestuosidad incomparable, estas maravillas naturales dejan a todos los viajeros sin aliento ante la inmensidad y la belleza del paisaje. Nuestra primera para será en el salar de Uyuni en Bolivia, el desierto de sal más extenso del mundo.
Cuenta la leyenda indígena de los habitantes de Tahua, que una muchacha muy bella llamada Tunupa que tenía muchos admiradores. Un día Tunupa rompió a llorar desesperadamente tras perder a su hija y sus lágrimas crearon un río de sal que ahogó todos los campos del lugar.
El salar de Uyuni está situado en el corazón de la Cordillera de los Andes, al suroeste de Bolivia. Localizado a 3,656 por encima del nivel del mar, el salar tiene una extensión de 10.582 kilómetros cuadrados. Al mismo tiempo, e la reserva de litio más importante del mundo, además otros componentes químicos. Más allá de la leyenda, los científicos han descubierto que la formación del salar fue el resultado de la evaporación del lago Tauca que desapareció durante un período de intenso calor y sequía hace más de 10.000 años. El también es conocido como "el gigante dormido" debido a la quietud y la tranquilidad que inspira el paisaje.
En lo últimos años, el salar se ha convertido en un destino preferido para aquellos que practican el ecoturismo.
This month on Spanish Classroom
Every year, Americans around the nation get together to celebrate Hispanic Heritage Month from September 15th through October 15th. The contributions Hispanic Americans have made to the United States are endless and inspiring, and they have had a profound and positive impact on our county.
Los sonidos y las letras

Cuando hablamos, pronunciamos sonidos. Los sonidos sirven para distinguir palabras, como por...
2016

2015

2014

2013

2012

2011