¡De regreso a la escuela!
Aug 22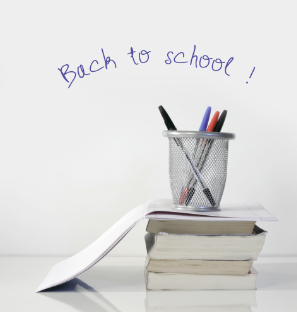 Ha llegado nuevamente ese momento del año en que regresamos a la escuela después de una largas y calurosas vacaciones. Entre la pereza veraniega y las innegables energías renovadas, vamos despertando a un nuevo curso escolar lleno de retos y de satisfacciones. Como maestra, me gustaría compartirles tres ideas que me han sido muy útiles siempre que estoy a las puertas del inicio del año escolar.
Para comenzar este año académico y logar que sea único e inolvidable para nuestros estudiantes es importante:
1. Estar organizados: Es vital estar organizados al comienzo del curso escolar porque de ello depende no sólo la estructura de nuestro plan de estudios sino también que nos ahorra mucho tiempo esfuerzo al final el curso escolar.
- Prepara y decora tu salón de clases para que los estudiantes se sientan cómodos en un ambiente acogedor.
- Organiza su cuaderno de notas y asistencia. Siempre intenta mantenerlo al día.
- Ordena y escribe en tu calendario todas las fechas y eventos importantes para no olvidarlos.
- Planea cuatro semanas de lecciones de clase. Eso nos ayuda a proyectar los contenidos que incluirán las evaluaciones que los estudiantes tendrán a lo largo de una determinada lección. Esto nos ayudará a preparar a los estudiantes adecuadamente.
Una vez comenzadas las clases, ...
2. Asegúrate que los estudiantes han comprendido las metas de tu curso: Desde el primer día de clase me gusta cerciorare que mis alumnos comprenden la importancia que tiene nuestra clase para su desarrollo académico y futuro profesional. Como instructora de idiomas a veces se torna difícil que los estudiantes le den la importancia que requieren los cursos de idiomas. Generalmente, nuestros educando priorizan las clases de ciencias y siempre les dedican mucho tiempo. Por esta razón , durante la primera semana intento que tanto estudiantes como padres comprendan que los cursos de idiomas son tan importantes como los de ciencia y que tienen el mismo valor porcentual en el promedio escolar que las clases de ciencias.
- Escribe un documento en que describas los objetivos del curso y tus expectativas durante el mismo. De ser necesario, pídele a los padres y los estudiantes que firmen este documento. Guárdalo como constancia de que recibieron esta información. A veces, lo que parece un simple documento, te ahorrará un gran dolor de cabeza.
3. Trata de evitar las tensiones, dile no al stress: Aunque parece difícil no sentirse abrumado durante las primera semanas de comenzado el curso escolar, es bueno tratar de relajarnos para disfrutar de nuestra profesión. Tendremos numerosas reuniones a las que habrá que asistir o recibiremos innumerables correos electrónicos de padres y/o alumnos también preocupados y/o confundidos pero siempre hay que mantener la calma. Solamente piensa que el inicio del curso escolar pasará muy pronto y que en un par de semanas todos estaremos más tranquilos y organizados y podremos comenzar una rutina diaria que se extenderán por nueve largos meses.
Recuerda, lo principal es que traigas toda tu energía positiva para que puedas contagiar a tus estudiantes.
This month on Spanish Classroom
"Books and movies are like apples and oranges. They both are fruit, but taste completely different."
- Stephen King
It's Christmas Time!

By- Angela Padrón When most people today think of Christmas, symbols like trees,...
2017

2016

2015

2014

2013

2012

2011