Conoce a la Divina Pastora de Venezuela - Resources for your Spanish Classroom
Jan 14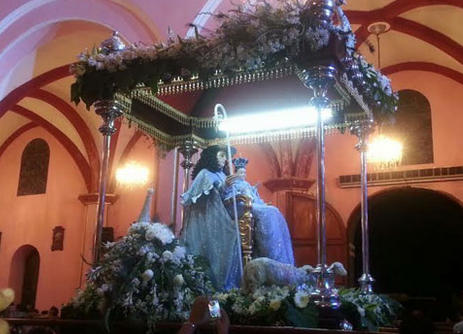 Imagen de @danipiscitelli. http://elimpulso.com/articulo/14e-bienvenida-divinapastora-fotos
Cada 14 de enero en Barquisimeto, estado Lara – Venezuela, se celebra la procesión de la Divina Pastora. Durante este día, millones de venezolanos acompañan a la imagen de ésta virgen desde un poblado de nombre Santa Rosa para completar un total de 8 kilómetros de peregrinación. Es una multitudinaria congregación mariana considerada entre las más numerosas a nivel mundial, donde la imagen sale de su templo y después de una emotiva misa, en medio de cánticos y plegarias, es llevada en hombros hasta Barquisimeto, capital del estado Lara. La Divina Pastora es un ícono religioso para los venezolanos, es la patrona de la ciudad de Barquisimeto y del estado Lara en Venezuela. Es una de las advocaciones de la Virgen María más queridas y con mayor número de creyentes de ese país. El 14 de enero reúne fieles de diversas religiones, es una fiesta caracterizada por la alegría, paz, tolerancia y amor, donde se salvan las diferencias económicas, políticas y sociales. Es el día donde los venezolanos manifiestan unión, hermandad, fortaleza, solidaridad y fe para construir un mejor futuro. Cada año se ha ido incrementando el número de personas que participan en la celebración de esta procesión, incluso muchas personas de otros países han sido contagiadas delfervor a esta virgen y viajan para hacerse presentes en esta fiesta religiosa. Para conocer más acerda de esta tradición haz clic aquí.
This month on Spanish Classroom
Every year, Americans around the nation get together to celebrate Hispanic Heritage Month from September 15th through October 15th. The contributions Hispanic Americans have made to the United States are endless and inspiring, and they have had a profound and positive impact on our county.
Los sonidos y las letras

Cuando hablamos, pronunciamos sonidos. Los sonidos sirven para distinguir palabras, como por...
2016

2015

2014

2013

2012

2011