Conoce a Cristóbal Colón - Resources for your Spanish Classroom
Oct 06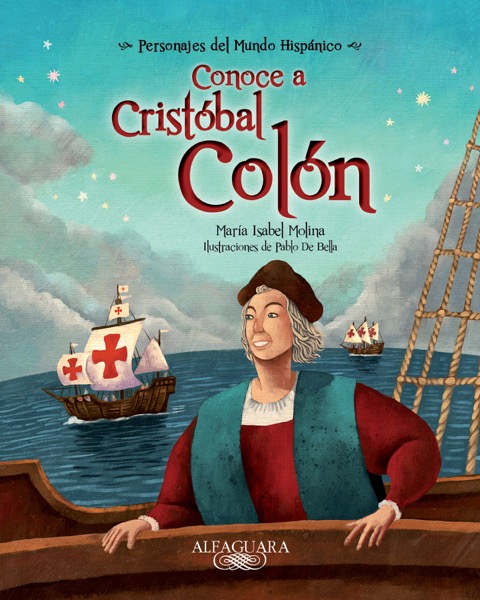 Pocas personas han tenido tanto impacto en la historia como Cristóbal Colón. Su idea de viajar desde Europa hacia el oeste iba a cambiar el mundo, pero ni él mismo llegó a imaginar cuánto. Murió sin saber que había descubierto un nuevo continente, donde habitan muchos pueblos con nuevas maneras de ver y vivir la vida. ¿Cómo era este hombre que logró que los reyes de España pagaran un viaje que, a ojos expertos, era un gran disparate? ¿Quieres conocer a Colón? ¡Abre este enlace y empieza a leer!
Acerca de la autora
María Isabel Molina nació en Madrid, España. Estudió para perito mercantil y desde muy joven se dedicó también a su gran vocación: escribir para niños y jóvenes. Ganó su primer premio literario, el Doncel de Cuentos, a los 18 años de edad. Se ha especializado en novela histórica y biográfica. Sus obras han merecido otros premios como el Doncel de Novela, el premio AMADE que concede UNICEF, la Lista de Honor del IBBY y varios premios CCEI. Está casada y tiene cinco hijos y varios nietos.
Conoce a Cristóbal Colón forma parte de la colección Personajes del Mundo Hispánico que recrea la vida de las más grandes figuras históricas de la cultura hispánica, contada por los mejores escritores e ilustradores del mundo hispánico actual.
For more information visit www.santillanausa.com

Or contact your Educational Sales Representative here.

This month on Spanish Classroom
Every year, Americans around the nation get together to celebrate Hispanic Heritage Month from September 15th through October 15th. The contributions Hispanic Americans have made to the United States are endless and inspiring, and they have had a profound and positive impact on our county.
Frida Kahlo

By Angela Padrón Frida Kahlo is a famous Mexican artist whose work and life is still...
2016

2015

2014

2013

2012

2011