HISPANOTICIA: Chile salda su deuda con Violeta Parra - Resources for your Spanish Classroom
Dec 04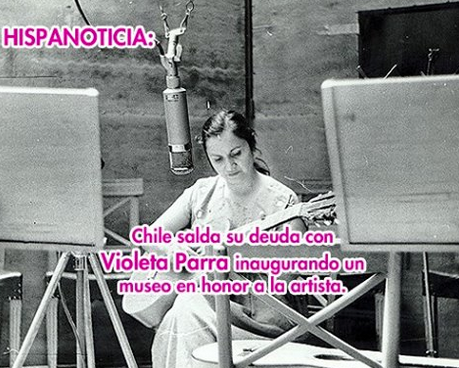 El recién inaugurado Museo Violeta Parra promete convertirse en un paso obligado para turistas y para los propios chilenos. Este museo está dedicado a la obra plástica de la artista. También muestra algunas de sus principales piezas musicales.
El museo abrió sus puertas al público a principios de octubre. Decenas de personas y escuelas públicas esperaban para visitar el museo el día de su inauguración a principios de octubre.
Actividades para HS Nivel 3

Además de dos salas de exhibición, ¿qué otros espacios se pueden visitar en el Museo Violeta Parra?

¿Por qué fue importante la artista Violeta Parra? Busca la información en el artículo.

Describe alguna visita a un museo que hayas realizado. ¿Qué te gustó más?
Vocabulario: inauguración, auditorio, exhibición, expresión, discurso, homenaje
This month on Spanish Classroom
"Books and movies are like apples and oranges. They both are fruit, but taste completely different."
- Stephen King
It's Christmas Time!

By- Angela Padrón When most people today think of Christmas, symbols like trees,...
2017

2016

2015

2014

2013

2012

2011