Celebremos el Mes Nacional de la Poesía- Resources for your Spanish Classroom
Apr 01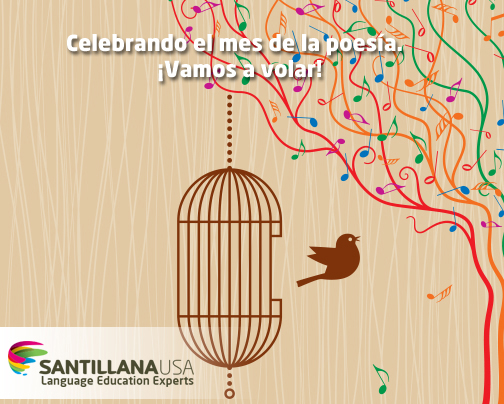 Queremos darle la bienvenida al Mes Nacional de la Poesía. En Estados Unidos venimos celebrando el mes de la poesía desde 1996. Durante el mes de abril de cada año, escuelas primarias y secundarias, universidades, bibliotecas, librerías, lectores, maestros y estudiantes se unen a la gran fiesta de celebración para disfrutar de la magia de este bello género literario.
Te invitamos a participar y disfrutar de la fantástica colección de libros de poesía que ofrece Santillana USA. Cuéntanos que es la poesía para ti, usando el #Poetryis en Facebook @spanishclassroom o en Twitter @plazasantillana.
Durante todo el mes de abril estaremos compartiendo con todos ustedes nuestros poemas favoritos y brindaremos actividades para tu clase de español.
A continuación te ofrecemos ideas para celebrar con tus estudiantes este maravillo evento literario.
• Lee un poema al día con tus estudiantes durante las cuatro semanas del mes de abril.
• Motiva a tus estudiantes a memorizar un poema.
• Invita a tus estudiantes a escribir un poema a la semana durante el mes de abril, y organiza un concurso para el mejor poema del curso.
• Comparte con tus estudiantes tu poema favorito y después, invítalos a compartir su poema favorito con sus compañeros.
• Organiza una actividad con tus estudiantes en la que actúen un poema y lo presenten al resto de la escuela.
Te esperamos este mes acá, en Plaza Santillana, para celebrar la riqueza del español.
¡Qué viva la poesía!
This month on Spanish Classroom
"Books and movies are like apples and oranges. They both are fruit, but taste completely different."
- Stephen King
It's Christmas Time!

By- Angela Padrón When most people today think of Christmas, symbols like trees,...
2017

2016

2015

2014

2013

2012

2011