Celebra el Mardi Gras con Joaquín, arlequín - Resources for your Spanish Classroom
Mar 05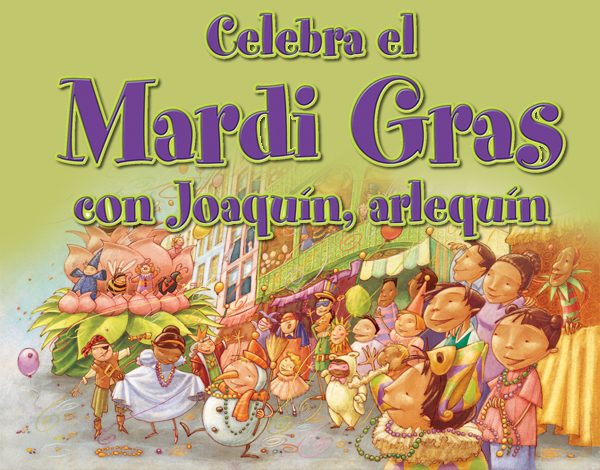 En Celebra el Mardi Gras con Joaquín, arlequín, Joaquín está con su familia celebrando el Mardi Gras cuando se pierde en la multitud. Sus papás y hermanos lo buscan por todas partes y sin querer se llevan a otros niños que, como Joaquín, están disfrazados de arlequines. Al final todo se resuelve y las familias de los niños disfrutan juntas del carnaval. El libro contiene, además, una sección informativa sobre el Mardi Gras que cubre temas como qué es lo que se celebra y por qué es importante, quiénes lo celebran, dónde y de qué manera (comidas, decoración, rituales, actividades especiales, etc.). Fotografías auténticas de la celebración, mapas y calendarios le ofrecen al estudiante una rica experiencia de aspectos culturales que, en varios casos, podrían ser ajenos a su propio entorno.

Celebra el Mardi Gras con Joaquín, arlequín, pertenece a la colección Cuentos para celebrar, que busca despertar en los estudiantes el respeto y la admiración por las creencias y tradiciones de otras culturas. Además, les ofrece la oportunidad de familiarizarse con las características y el estilo de textos tanto narrativos como expositivos, y de compararlos.
F&P Guided Reading Level G / Lexile Level 480L
Sigue visitando nuestro blog esta semana y encontrarás actividades para tu clase.
This month on Spanish Classroom
Every year, Americans around the nation get together to celebrate Hispanic Heritage Month from September 15th through October 15th. The contributions Hispanic Americans have made to the United States are endless and inspiring, and they have had a profound and positive impact on our county.
Frida Kahlo

By Angela Padrón Frida Kahlo is a famous Mexican artist whose work and life is still...
2016

2015

2014

2013

2012

2011