¡Celebra el Día de San Patricio con Samantha y Lola, acompañado de actividades para la clase! - Resources for your Spanish Classroom
Mar 14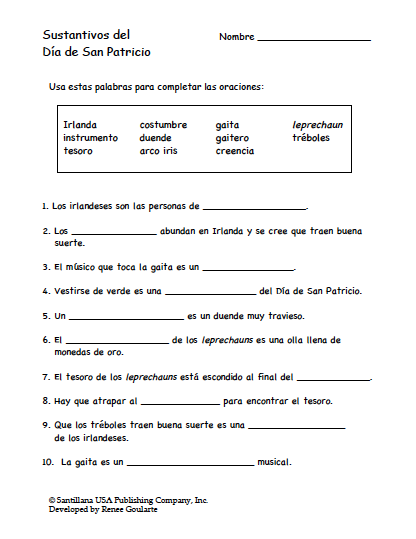 Para descargar la hoja de actividades K-2 haz clic aquí.
Para descargar la hoja de actividades 3-6 haz clic aquí.
A Samantha le encanta el baile irlandés y ha aprendido a bailarlo muy bien. A su amiga Lola también le gusta el baile y le encantan los elegantes trajes que Samantha usa en las presentaciones. Poco a poco, Lola aprende los pasos básicos hasta que llega el momento de hacer su debut en escena, durante el show que su escuela prepara para celebrar el Día de San Patricio. El libro contiene, además, una sección informativa sobre el Día de San Patricio que cubre temas como qué es lo que se celebra y por qué es importante, quiénes lo celebran, dónde y de qué manera (comidas, decoración, rituales, actividades especiales, etc.). Fotografías auténticas de la celebración, mapas y calendarios le ofrecen al estudiante una rica experiencia de aspectos culturales que, en varios casos, podrían ser ajenos a su propio entorno.
Celebra el Día de San Patricio con Samantha y Lola, pertenece a la colección Cuentos para celebrar, que busca despertar en los estudiantes el respeto y la admiración por las creencias y tradiciones de otras culturas. Además, les ofrece la oportunidad de familiarizarse con las características y el estilo de textos tanto narrativos como expositivos, y de compararlos.
F&P Guided Reading Level J
Para descargar el audio de Celebra el Día de San Patricio con Samantha y Lola haz clic en el enlace:
This month on Spanish Classroom
Every year, Americans around the nation get together to celebrate Hispanic Heritage Month from September 15th through October 15th. The contributions Hispanic Americans have made to the United States are endless and inspiring, and they have had a profound and positive impact on our county.
Frida Kahlo

By Angela Padrón Frida Kahlo is a famous Mexican artist whose work and life is still...
2016

2015

2014

2013

2012

2011