"Celebra el Día de Martin Luther King Jr. con la clase de la Sra. Park" eBook and Creative Reading Questions - Resources for your Spanish Classroom
Jan 13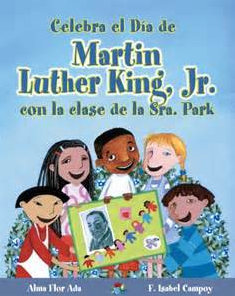 To view eBook click here.

Los estudiantes de la clase de la Señora Park se preparan para celebrar el Día de Martin Luther King, Jr. Mientras lo hacen, meditan sobre los valores que Martin Luther King, Jr. nos dejó como legado. Contiene una sección informativa sobre Martin Luther King, Jr. que cubre temas como quién fue Martin Luther King, Jr. y su importancia en la historia de los Estados Unidos. Fotografías auténticas de Martin Luther King, Jr. y otros líderes de su época, le ofrecen al lector una rica experiencia de aspectos históricos y culturales.
To download & print Creative Reading Questions click here.

This month on Spanish Classroom
Every year, Americans around the nation get together to celebrate Hispanic Heritage Month from September 15th through October 15th. The contributions Hispanic Americans have made to the United States are endless and inspiring, and they have had a profound and positive impact on our county.
Frida Kahlo

By Angela Padrón Frida Kahlo is a famous Mexican artist whose work and life is still...
2016

2015

2014

2013

2012

2011