By Spanish Classroom
6425 Views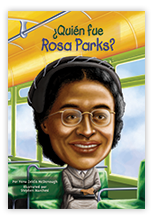 "El martes 1 de diciembre de 1955, Rosa Parks salió de su trabajo un poco antes de las cinco. Caminó hasta Court Square para tomar el autobús de la ruta Avenida Cleveland. Se montó en él y pagó su pasaje. El autobús se llenó rápidamente y no quedaron asientos disponibles en la sección de los blancos".
Continue reading
This month on Spanish Classroom
"Books and movies are like apples and oranges. They both are fruit, but taste completely different."
- Stephen King
It's Christmas Time!

By- Angela Padrón When most people today think of Christmas, symbols like trees,...
2017

2016

2015

2014

2013

2012

2011