By Spanish Classroom
2016 Views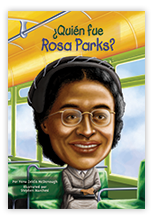 "El martes 1 de diciembre de 1955, Rosa Parks salió de su trabajo un poco antes de las cinco. Caminó hasta Court Square para tomar el autobús de la ruta Avenida Cleveland. Se montó en él y pagó su pasaje. El autobús se llenó rápidamente y no quedaron asientos disponibles en la sección de los blancos".
Continue reading
This month on Spanish Classroom
Every year, Americans around the nation get together to celebrate Hispanic Heritage Month from September 15th through October 15th. The contributions Hispanic Americans have made to the United States are endless and inspiring, and they have had a profound and positive impact on our county.
Frida Kahlo

By Angela Padrón Frida Kahlo is a famous Mexican artist whose work and life is still...
2016

2015

2014

2013

2012

2011